Sariska National Park, Rajasthan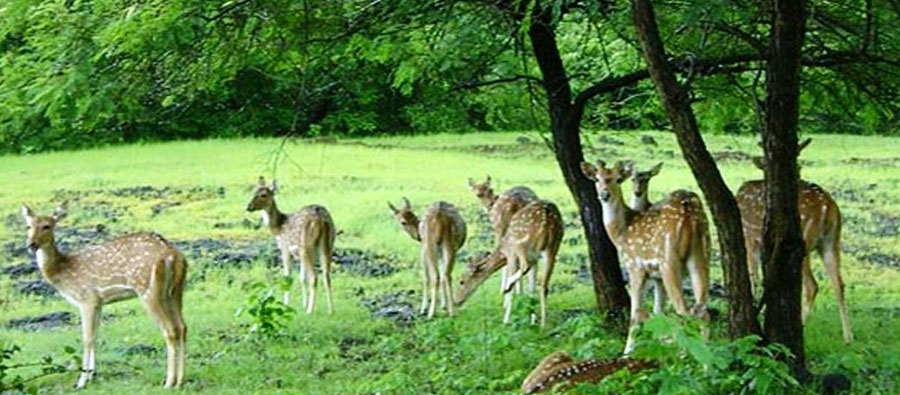 Sariska National Park in Alwar, Rajasthan was declared a Wildlife Sanctuary in 1958 and was included in the ambitious 'Project Tiger' in 1979. Like many wildlife sanctuaries in India, Sariska too was a hunting reserve for royal families in the past. Its plentiful tiger population supported by large herds of Sambhar and Nilgai was the ideal place for the royals of the state as well as their visiting guests to go on shikaars. All this changes after it came under the protection of the Forest Department with added protection and sanctity given to it. Nestled in the Aravali Range, Sariska has a beautiful and unpredictable topography at each turn of the road. Rocky landscapes with scrub-thorn make up the general vegetation along with a dense cover of dry deciduous forests. High rugged cliffs make it a safe haven for leopards too. It is one of the country's largest National Parks covering an area of about 866 square kilometers.
Sariska has been vulnerable because of its rich mineral resources like copper. This was being mined indiscriminately for years and continued despite the Supreme Court's ban in 1991. Sariska made the headlines for the wrong reasons in 2005, when it was reported that all its tigers had been poached.
However, the Forest Department with the help of the Wildlife Institute of India (WII) helped Sariska get back on its feet and on its way to reclaim its title of one of the country's best and most unique tiger habitat. Sariska now holds the commendable title of being the first and only successful tiger relocation story in the world. Tigers from neighboring Ranthambore have been successfully relocated and are thriving. The figure stood at a lucky 13 with 7 tigresses, 2 tigers and 4 cubs.
Where once ignored by the rest of the world, Sariska now sees an increasing number of visitors and wildlife enthusiasts.
Climatic Conditions
Sariska sees temperatures soar as high as 49 degrees C in the summer months. Winters are a pleasant 4 degrees or so on an average, sometimes dropping to as low as 0 degrees. The average annual rainfall here is about 600 meters.
Best Time To Visit
Because Sariska has some monuments of religious within its periphery, it is open all year round. However, for wildlife enthusiasts, the best time to visit would be from mid-October to June.
Wildlife at Sariska National Park
Mammals: The Royal Bengal Tiger, Leopard, Jungle Cat, Wild Dog, Hyena, Jackal, Sambhar, Chital or Spotted Deer, Nilgai or Blue bull, Four-horned Antelope or Chausingha, Wild Boar, Langoor and Rhesus Monkey or Macaque and the extremely rare Caracal.
Birds: Peafowl, Grey Partridge, Sand Grouse, Bush Quail, Tree Pie, Crested Serpent Eagle, Golden Backed Wood Pecker and the Great Indian Horned Owl.
Reptiles: Crocodiles.
Accommodation Facilities
• The Sariska Palace,Alwar
• Sariska Tiger Heaven
• Hotel Tiger Den (RTDC), Near Forest Choraha, Sariska, Alwar
• Forest Rest House
Entry fees:
• INR 80 for Indian national (per person)
• INR 470 for foreign nationals (per person)
• INR 400 per video camera
• INR 2,650 per Jeep entry with six people