Jim Corbett National Park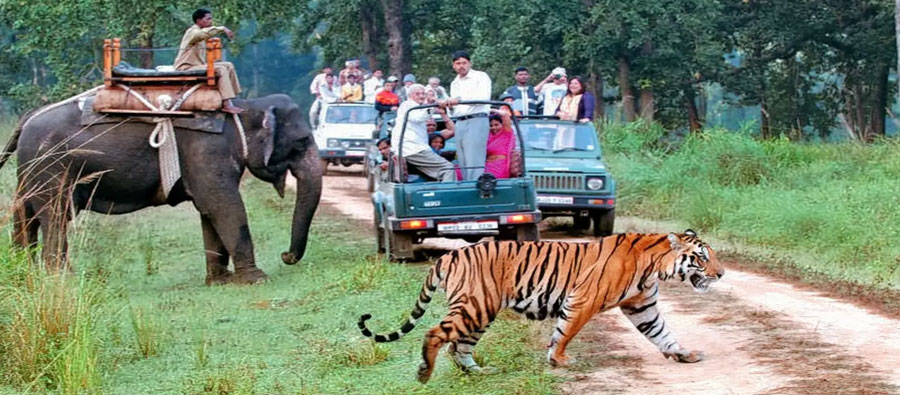 Established in the year 1936, Jim Corbett is the one that is the oldest National parks of the country. In the Uttarakhand state this park is located in Nainital district. Spread over an area of almost 1320 sq km this park includes many landscapes like that of the mountains, grasslands, rivers, marshes, forests and also swamps. Here the flora and fauna are just too good to see. Both the fauna and the flora here equally vary.
The Park is said to be divided into two simple areas. The outer area and the second is the core area. The innermost area is the one that is highly virgin because it is something that is very untouched by human population. The outer are is well known because a lot of tourists go there to spot many animals where as the core areas are dense and there is no human interruption.
Languages: Hindi and English
Best Time to Visit: November to June
Temperature: Summer (22°C Min to 42°C Max) & Winter (4°C Min and 25°C Max)
Climate: Temperate
Nearest Railway: Ramnagar
Nearest Airport: Pantnagar
TOURIST ATTRACTIONS
Flora
When you are here at the park you will find a lot of Sal forests that have covered up the complete forest densely. Apart from this you will see that there are almost 500 other species of plants which have been recorded at the Corbett National Park.
Fauna
The Fauna also widely varies here in this Park and also resides in plenty over here. The many mammals that you can have a look at here include that of Bengal Tigers, Leopards, Elephants, Deer (Barking, Cheetal, Black Buck and Sambar), Black Bears, Sloth, and Yellow throated Martens, Langurs and more over also some Indian Grey Mongoose etc.
To see you will find too many birds too and it is noted that this place has 585 species of migratory and also the resident birds. Apart from these a few of the very famous birds here include that of red jungle fowl, crested serpent eagle, blossom headed parakeet etc.
Moreover you can see that the Jim Corbett National park is also a dwelling for almost 37 species of dragonflies, and 7 species of amphibians. You can also take a look at the 7 species of fishes and 33 species of other reptiles.
Once when you are here you can do a lot of things. Looking at all of these flora and fauna you can make sure that you will have a real good opportunity of exploring wildlife and lot more. You can simply have the best time in the dense forests looking at all the many species which also include exotic types of birds. Here you can enjoy the Elephant Safari and Jeep Safari. Both of these are the ones which can help you explore the forests more and can add to your adventure.
You can also visit the Corbett Museum. This place is dedicated to the founder and it exhibits man's weapons, old maps, books and also a few other articles.