Ajanta / Elora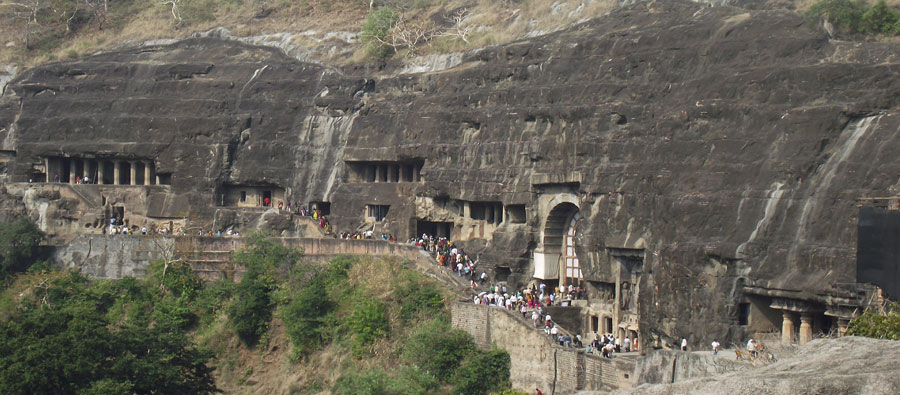 Located at the distance of around 100 kms from Aurangabad, Ajanta/ Elora are the renowned caves in this city of Maharashtra. These caves were exposed by the British Captain Mr. John Smith in the year 1819 unintentionally. While he was on a sea voyage, extremely massive caves were discovered by them. It mainly came into existence in 3rd century. You can say that these caves are simply a masterpiece of various Buddhist religious sculptures. In order to reach over here, you can either opt for flights or there is also a good train network from several cities in India.
Languages: Hindi, Marathi and English
Best Time to Visit: October to March
Temperature: Summer : (20o C to 42o C) & Winter (10o C to 32o C)
Climate: Tropical dry
Nearest Railway: Aurangabad
Nearest Airport: Aurangabad
TOURIST ATTRACTIONS
Ajanta
If you want to witness the Indian architecture in its finest form, Ajanta caves are an ideal place to visit. Buddhist priests have accomplished these caves with their architectural works. Interesting fact about these caves is that they were created out of volcanic lava which came from Deccan. You would admire and get astonished with the amazing sculpture found here on walls as well as the ceiling. Living pictures of Lord Buddha are retained in form of sculpted images.
Architectural design is the next significance of Ajanta caves. Some of the caves over here are dedicated to Chaitya- Grihas and others to Sangrahamas. Distinct feature about these caves includes the floral, arithmetical patterns and even ornamental motifs.
Elora
Elora is the next set of caves in Aurangabad. There are overall 34 Elora caves. Out of all, the holy cave over here is a great example of beautiful Indian architecture. They portray a combination of various religions such as Jainism, Buddhism and Hinduism. Constructed between 350 AD and 750 AD, these caves are segmented into 12 Buddhist caves, 17 Hindus and 5 are entirely based on Jainism. Overall structural design of Elora caves is very appealing.
At the Hindu caves over here, you can find the carvings made of Lord Shiva, Parvati, Durga and Lord Vishnu. On the other hand, Jain caves display the preaching of Jain Saints. You just cannot miss out the Kailash Temple which was built out of a single rock having a height of around three storeys.
Although you can visit here at any time throughout the year, rainy season is the best time if you want to enjoy the amazing waterfalls as well as lush green valley here. You can view the natural beauty at its peak during this season. Also the weather is cool so you can go through all the caves easily.