Mumbai Tour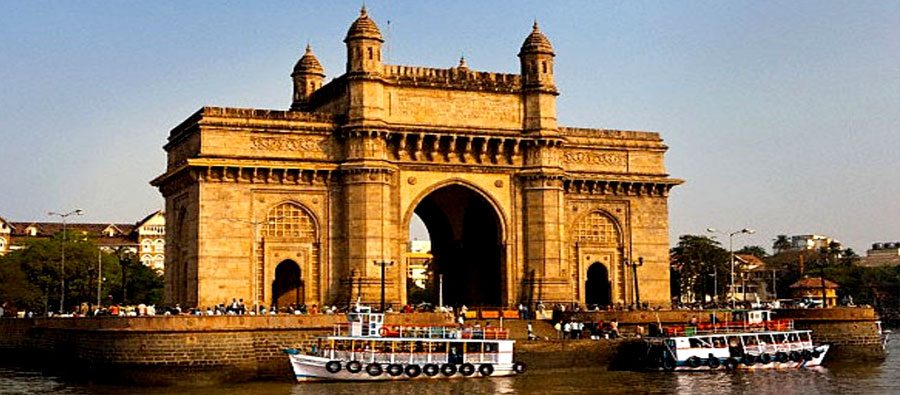 Mumbai is what the Indians affectionately call - the 'City of Dreams'. This fabulous city is not only the financial capital of India that serves as the center of all trade and investments, but also a cultural center. Mumbai is where you can possess the most distinguished designer labels and products from various fashion houses that flood the busy malls. This is the one place where glamour is not an uncommon word and is reflected ostentatiously in the Bollywood film industry. Take a look at the beaches in Mumbai to witness some of God's amazing miracles- the magnificent sunsets over the Arabian Sea, which is a dream-like vision. In Mumbai, night is when the day truly begins, which is why Mumbai is also referred to as the 'city that never sleeps'.
Some of the well-known tourist attractions in India are found here in Mumbai. The 'Gateway of India' situated in Colaba is a renowned monument built in the Hindu-Muslim styles of architecture to honor King George V and Queen Mary. Take a peek into the world of Hindi cinema by visiting 'Film City', which is located in Goregaon. If you like water theme parks, then you must visit 'Essel World and Water Kingdom' for a day of complete adventure. Take part in the massive festivities of 'Ganesh Chathurthi,' at the 'Siddhivinayak Temple' and fulfill your dreams with the blessings of 'Lord Ganesh'. One of the finest museums in India, the 'Prince of Wales Museum' features rare artworks, sculptures, coins and lots more. Explore this extraordinary city and take home an unforgettable, typical 'Mumbai' experience. See it to believe it!
Best Time to Visit Mumbai
Mumbai in summer - From March till May : Summers in Mumbai are sticky and hot. This time is recommended to be avoided if you are planning to visit Mumbai. Temperature during this season rises up to 38 degrees Celsius and does not dip below 25 degrees Celsius.
Mumbai in Monsoon - From June till September : Mumbai during the monsoon season receives plenty of rainfall. However, the weather gets refreshing and might also become sticky. This is a good time to visit Mumbai if you are a lover of rain. Shopping or sightseeing could be a problem due to heavy rains. Temperature during monsoon here stays around 20 degrees Celsius and 30 degrees Celsius.
How To Reach
By Air Chhatrapati Shivaji International Airport is one of the major airports of India. This airport connects Mumbai with different corners of the globe like Mauritius, Kuala Lumpur, London, Hong Kong, Amsterdam, Abu Dhabi, Goa, Lucknow, Delhi, Jeddah, Singapore and many others. At a distance of 4 km from International airport is Santa Cruz Domestic Airport. The airport is functional round the clock. There are easy availability of taxis, autos and buses from both the airports.
By Rail Chhatrapati Shivaji Terminus (CST) and Bombay Central are two major railway stations that connect Mumbai with different parts of the country. Trains arriving from West, East and Central India rest at Chhatrapati Shivaji Terminus. Bombay Central Station has trains coming from North India usually.
By Road Mumbai is connected to different cities and towns of India with the help of National Highways. The city can be reached by National Highways number- 4, 17, 8, 9, 50 and 3. Interstate buses run across West India, like Pune, Nashik, Aurangabad, Gujarat, Mahabaleshwar, Goa, Panchgani and others. Travelers can choose from luxury or budget buses to commute to other cities to or from Mumbai. The city in itself too has brilliant connectivity. There are easy availability of autos, taxis and buses. Local trains are yet another way of travelling within the city.
TOURIST ATTRACTIONS
Gateway of India
The objective of this 85 feet tall structure was to commemorate King George, the Fifth's visit to Mumbai. Incidentally, the last of British soldiers that were to leave India after independence, departed through Gateway of India. The architecture is a perfect blend of three styles, namely Hindu, Islam and European Gothic styles. You could take ferry from here to visit Elephanta Caves.
Elephanta Caves
Elephanta caves are in Elephanta Island, which is roughly around 40 minute ferry ride from Gateway of India. UNESCO has declared Elephanta Caves, belonging to 600 AD, as World Heritage Site. The stone sculptures of the Hindu and Buddhist gods are damaged because of the Portuguese who used them in their sword practice. Regardless, the artwork in the sculptures speak of the artistic excellence of the bygone era and no wonder, Elephanta Caves is considered one of the seven wonders of India.
Marine Drive
Marine Drive is in the heart of Mumbai and hence you can have easy access to it from anywhere in Mumbai. It is 3km long and it borders Arabian Sea forming a bay. The stretch is 'C' shaped that links Nariman Point and Babulnath. The place offers spectacular view of sunset. Tourists are attracted to Marine Drive where they could stroll in the walkway and experience the cool breeze.
Chhatrapati Shivaji Terminus
This was earlier known as Victoria Terminus. The construction was completed in the year 1897. UNESCO has declared the terminus as World Heritage Site in the year 2004. The building is a representation of architecture of various cultures including traditional Indian, Victorian and Gothic. Though it is a terminus to board and get off trains, you cannot help marveling at the stunning architecture of the building. Whether you intend to take a train or not, this is a must visit site in Mumbai.
Haji Ali Shrine
Located in the heart of Worli, Haji Ali Shrine reflects the Indian Muslim architecture. The 85 feet tall structure is located in 4500 meters area of land. The Shrine is constructed with marble that matches the marbles used in the construction of Taj Mahal. The pillars of the Shrine are artistic and the mirror work in the monument is stunning. The stupendous architecture of the Haji Ali Shrine attracts people of various religions and beliefs.
Sanjay Gandhi National Park
Sanjay Gandhi National Park is Asia's most visited national park with about 2 million visitors visiting this park annually. The rich flora and fauna along with the presence of 2400-year-old Kanheri caves make this place a major attraction in Mumbai. Interestingly, this park is also the home of Karvi shrub which blooms once in every eight years, covering the whole forest in a lavender hue.
Chhatrapati Shivaji Maharaj Vastu Sangrahalaya
Chhatrapati Shivaji Maharaj Vastu Sangrahalaya or Prince of Wales Museum has one of the most extensive collection depicting India's legacy. It was built in early 20th century in honour of Edward VIII, the prince of Wales at that time. The museum is divided into art, archaeology and natural history and approximately 50,000 artefacts can be found here. The artifacts here can be traced back to Indus Valley Civilization, Gupta Dynasty, Mauryan dynasty etc and interestingly, many artifacts here also have foreign origins. Another thing to note is the museum's massive and stunning Neo Gothic architecture.
Markets of Mumbai
Mumbai is a haven for shopping, mainly for its fashion street shops and flea markets. Colaba Causeway, Linking Road, Hill Road, Fashion street offer some great choices for fashionistas at very low cost. Buy designer knock offs, junk jewellery and even branded clothes here at budgeted rates. Chor Bazaar is India's largest flea market and is almost 150 years old. Set up in the British Era, it is famously said that you can find almost everything here. Crawford Market and Chincholi Bunder Link Road are other markets for good deals.
Global Vipassana Pagoda
Global Vipassana Pagoda is a medication hall built to symbolise peace and harmony. The sermons here strive to educate people about Lord Buddha, his teachings and remove any misconceptions regarding Vipassana. The central dome of the building is world's largest dome without any pillar support and the pagoda style is an expression of gratitude to Burma, for preserving the practice of Vipassana.
Siddhivinayak Temple
Siddhivinayak Temple is one of the most visited places of worship in Mumbai. Many politicians, Bollywood celebrities frequent this temple to seek blessings of Lord Ganesha. Even Tim Cook, the CEO of Apple started his India trip after visiting this temple. Seek few moments of peace and offer prayers to 'wish granting Lord Ganesha.'
Basilica of Our Lady of the Mount
Basilica of Our Lady of the Mount has a history that can be traced back to the 16th century. This Roman Catholic Church is famous for two statues of Blessed Virgin Mary, which have interesting legends behind them. An annual feast for the Birth of the Virgin Mary is held with great festivity on the first Sunday after 8th september and is followed by the famous Bandra fair. Both christians and hindus attend this church in large numbers.
Beaches of Mumbai
Mumbai is essentially a collection of islands and therefore it is no surprise that the beaches here are one of the major attractions of this city. The Juhu beach stretch is famous for housing the residences of many Bollywood celebrities like Amitabh Bachchan, Vidya Balan, Mahesh Bhatt and many more. Aksa Beach, Girgaum Chowpatty, Kalamb Beach and Marvé Beach are some other beaches that can be visited.
Flora Fountain
Flora fountain was constructed in the year 1864 and named after Roman Goddess Flora. A beautiful statue of Flora, the Roman Goddess is seen at the top. It is one of the Heritage structures of India. The other heritage constructions around Flora Fountain are Gateway of India, Central Telegraph Office, Bombay High Court and a lot more. If you were to visit Flora fountain do not miss visiting the place in the evening to see the beautifully lit fountain.
Dr Bhau Daji Lad Mumbai City Museum
The Dr Bhau Daji Lad Mumbai City Museum is Mumbai's oldest museum and was built in the year 1872. It is built in Renaissance revival style with heavy European influences. It's beauty does not only limited to its exteriors but also its lavish interiors which were renovated recently. The display here includes different types of archaeological relics, maps of old bombay, ancient manuscripts and many more. A basalt elephant sculpture discovered in Elephanta graces the entrance of this beautiful museum.
Fort Bassein
Fort Bassein was built by the Portuguese, who wanted to consolidate their foothold in the Konkan region through the same. This majestic structure, now in ruins has been a part of many battles like the Anglo Maratha War. Recently, the fort was in news because of Coldplay, who shot their video 'Hymn for the Weekend' here. The fort is mainly in ruins but a few watchtowers still stand intact with stairways in good condition. The presence of Vasai creek nearby has covered the fort and its nearby area with lush vegetation and a unique array of flora & fauna. Due to its isolation, it is better to travel here in groups.