Ranthambore National Park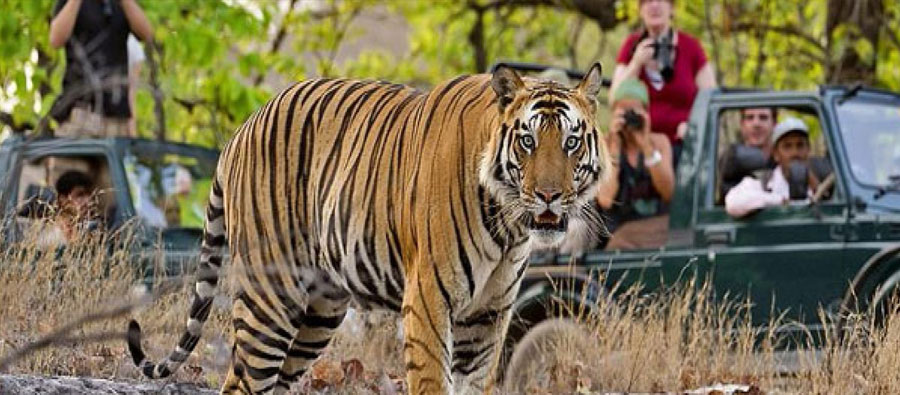 Ranthambore is a small city situated in Sawai Madhopur district of North West Rajasthan. It is also popular as a 'Tiger city'. This city is spread in the area of around 1334.64 Sq. Km. Enclosed by the Vindhyachal range on one side or Aravali range on the other, this amazing place is a valuable jewel of Rajasthan. It is situated very close to the Thar Desert. This place has a worldwide popularity to its valuable Tiger reserves.
Ranthambore is blessed with a wealthy fauna and flora and splendid landscapes. Apart from that, this place also has a good collection of lush green grasslands and dazzling lakes. It can be said that this place serves to be a perfect vacation spot for all the travelers. Especially those who are fond of wildlife would surely love to visit this place. It is definitely a dream destination for such tourists. Most popular tourist attraction of Ranthambore is national park of that place.
Languages: Hindi, English, Rajasthani
Best Time to Visit: October - June
Temperature: Summer (32 o C to 49 o C) & Winter (2o C to 30 o C)
Climate: Tropical
Nearest Railway: Sawai Madhopur
Nearest Airport: Jaipur
TOURIST ATTRACTIONS
Ranthambore National Park
This Park is the most popular wildlife spot of India. Due to this reason, tourists from throughout the world make a visit here in large numbers. You can wide varieties of birds and Tigers over here. Animals which you can find over here include Tigers, small Indian Civets, Sambar Deer, Leopards, Hare, Ratels, Striped Hyenas, Chinkara, Squirrels, Indian Mole Rats, Dessert Cats, Jackats, Indian Foxes, Yellow Bats and Indian Wild Boar. Apart from this, you can find various kinds of reptiles and animals in the park. This park also consists of different kinds of migratory birds during peak season.
Ranthambore Fort
Situated at the distance of 13km away from Sawai Mahopur station, this fort is another place of interest over here. Another name for this fort is known as "Ranath Bhawar Garh" and it is also referred to Rajput warriors.
Kachida valley
This valley is a place where you can see several types of outcrops and hills. Located at the outer edge of Ranthambore National Park, it is another tourist destination over here. In order to take a complete tour to this valley, you can opt for a jeep safari. Here you can find a royal collection of beers and panthers.
Jogi Mahal
This fort is another popular destination for tourists coming to the Ranthambore National Park. It is situated at the distance of just few minutes from this National Park and consists of several facilities which can make tourists comfortable coming over here.
Bakula
Bakula is a forested region which has pools and many water holes. As there is abundant water in this region, you can find a wide variety of wildlife in this place.
Thus, it can be said that Ranthambore is an ideal place to visit to those who wish to explore the real and royal wildlife treasure of India.