Pushkar Camel Fair Tour Packages with Safari and Desert Camp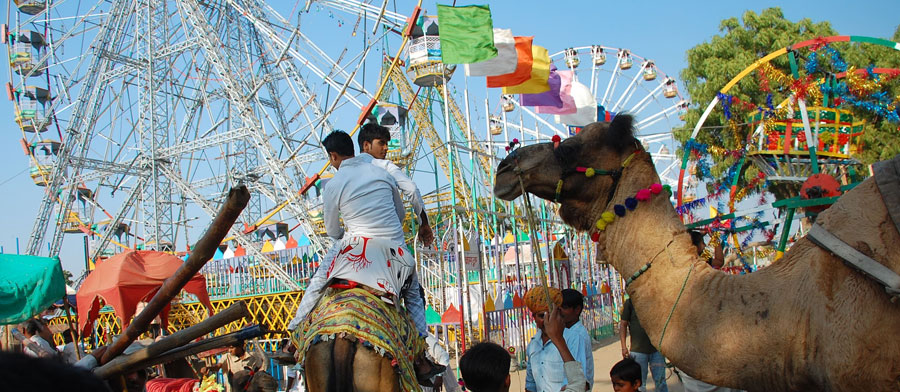 The dramatic collage of diversified pictures of Pushkar mirrors the vibrancy for which this gracious state of Rajasthan is lionized. And the sprawling annual festivities of Pushkar Fair take its horizons to one another level. Portraying the marvelous cocktail of wonderful art and architecture from the bygone era, the Pushkar Fair creates a stir among the travelers with its awe-inspiring celebrations good enough to make everyone wide eyed. Pushkar Camel fair is a grand event in Rajasthan cherished with life oozing activities such as cultural and musical events, thrilling camel safari tours and a stay in the traditional camps making you feel like a local. Pushkar fair is an experience of a lifetime that hovers on the mind of the travelers and leaves them craving for even more.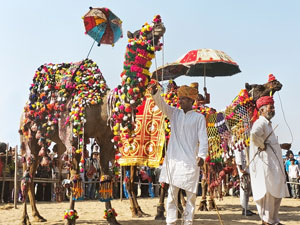 The fair embarks in Kartik Shukal Ekadasi and falls in the month of October – November. This five day long fair is celebrated till five long days till the Kartik Purnima and holds the sole aim of trading cattle including camels, horses, cows, goats, sheep etc. Once the trading of cattle gets completed, they are then bred and decked up with beautiful clothes and dazzling ornaments for public displays.
Every year Pushkar Fair is celebrated with great vigor by the locals of Rajasthan. The images of silver bells making heart pleasing jingles and animals walking over sparkling sand dunes are usual yet fascinating at this stunning cultural retreat.
Pushkar Camel Fair Tour Packages 2021 with Camel Safari Rajasthan
One another important factor that lures travelers into this charismatic fair is the camel competition. An array of camels is adorned in the best way possible for awe-inspiring beauty content. The owners leave no stone unturned in making their camels look dynamic and eye catching as the one looking the best wins the prize. The sights of beautifully decked up camels with their owners sitting on the backs are just astonishing and leave many jaws drop out of fascination. In one of the competition, large numbers of people are made to sit on the camel's back. The camel then lopes across the sand and throws its riders off its back, amidst cheers and jeers from thousands of spectators. The camel which succeeds in accommodating the maximum number of people on its back, wins the competition.
The grand occasion of Pushkar festival is definitely a priceless treat for those who wish to eye the vibrant cultures and traditions of Rajasthan. Travelers partaking in the festival get a lifetime opportunity of bagging some traditional Rajasthani souvenirs such as ornaments, garments, footwear, artifacts and a lot more. Ornaments of silver and bead necklace, patchwork, printed textiles as well the famous tie and dye fabrics from Ajmer are the main attractions of the Pushkar Fair.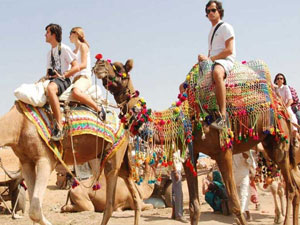 In the past few years, the art of body tattooing has also become a trendy attraction in the Pushkar Fair. The locals have set up small tattoo stalls here making traditional Rajasthani tattoos which are extremely loved by the travelers.
Pushkar Camel Fair Tour Package by Namasteholiday Rajasthan
Visiting Pushkar fair is a chance to please your hunger with delectable Rajasthani dishes cooked with rich Indian spices. Being a religious destination, one may find only vegetarian dishes served in this fair. All local dished here are cooked in pure ghee which oozes mouth- watering flavors. Dry fruits, traditional spices and homemade yogurt are used in most of the delicacies. Whether it is delicious dal baati or sugery churma and missi roti, travelers visiting Pushkar Fair always end up licking their fingers.
Many travelers flock at the Pushkar Fair to get the blessings of the almighty. The holy Pushkar Lake features 52 bathing Ghats which stay jam packed during the fair. It is believed that each of these ghats have their own unique features and powers to heal all kinds of sins and diseases. Being a spiritual destination, Pushkar is home to numerous small and big temples which are decked up with pleasing illuminations and painted with vibrant colors especially for the Pushkar Fair. Pushkar Fair is a great occasion to take a plunge into the blessings of divinity and attain the everlasting nirvana.