Jaipur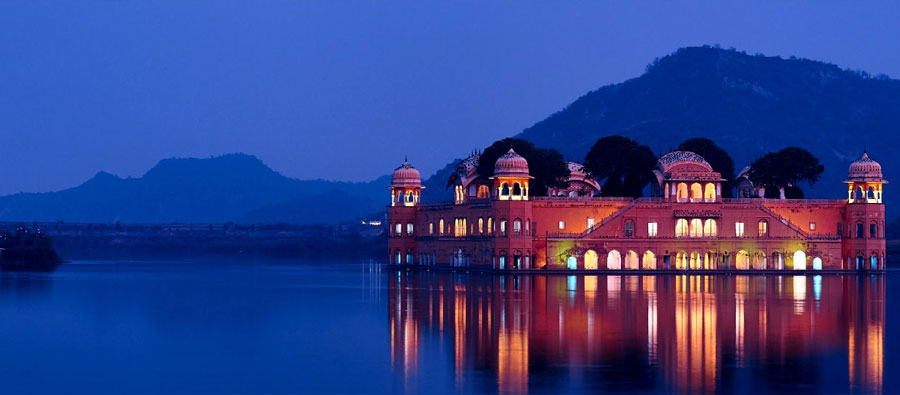 Jaipur prominently known as the Pink City is a glamorous foundation of Sawai Jai Singh II. Once you are here you can have a closer look at the splendid display of the complete royal Rajput heritage with it s amazingly made up forts and other palaces. Moreover this place is also well known for the hospitality and the other handicrafts etc which you can shop for.
The winters are the best time in which you can visit this city is the winters. This is because at this time the temperature is very low and therefore you can enjoy and have lot of fun. While if you plan in summers it will not be the right time as the temperature rises up to 50 degrees.
Jiapur city is the one that is well connected by roadways from many of the big cities. You can also be here with the help if some railways or regular flights (airways). You can hire the most luxurious cars here so that you can go around the city and check out the many different places. There are many tourist attractions here which you just cannot miss and they include the following.
Languages: Hindi, English and Marwari
Best Time to Visit: September to April
Temperature: Summer (32.4 o C to 45 o C) & Winter (4.3 o C to 22.2 o C)
Climate: Semiarid
Nearest Railway: Jaipur
Nearest Airport: Jaipur
TOURIST ATTRACTIONS
City Palace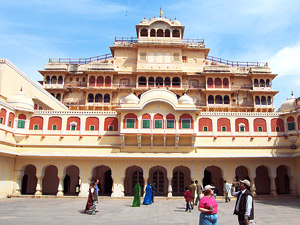 Famous For : History, Architecture, Photography.
Opening Timings : Open all days from 9:00 am – 5:00 pm.
Duration : 1-2 hours.
The City Palace in Jaipur was once the seat of kings as it was from here that they ruled the region. One of the best tourist spots in the city, the City Palace is a vast complex and includes several buildings, courtyards and gardens. Two of the main palaces in the complex are the Chandra Mahal and the Mubarak Mahal. The architecture is a fusion of Indian, Mughal, Rajput and even European styles and you can see the grandeur of the fusion in every nook and corner of the palace. The red and pink sand stone in which it is built adds a special beauty to the palace. The decorated gateways add elegance and magnificence to the structure. The City Palace of Jaipur is a great example of how design, art and creativity can be blended to form an exquisite symbol.
Amber Fort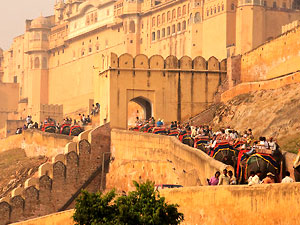 Famous For : History, Architecture, Photography
Opening Timings : Open all days from 10:00 AM – 5:00 PM
Duration : 1.5-2 hours.
Amber Fort, also known as Amer Fort is one of the best tourist destinations not just in Jaipur City but the whole of Rajasthan. Amer and the Jaigarh Fort are regarded as a single structure and a subterranean passage connects the two forts. It is believed that the passage was used to escape at times of war or enemy attacks. It is located on Cheel Ka Teela on Aravalli hills. The fort was built by Raja Man Singh I, one of the Navratnas of Emperor Akbar. Later, expansions were undertaken by the successive rulers. With its amazing architecture that combines Mughal and Hindu styles, the fort built in red sandstone and marble, is a sight to watch and walk through with its high ramparts, many gates, cobbled paths and splendid view. The Maota Lake looks splendid from the fort.
• Go elephant riding.
• Enjoy the light and sound show in the evening.
• Visit the temple of Sila Devi.
• Eat some mouth watering cuisines at 1135 AD.
Nahargarh Fort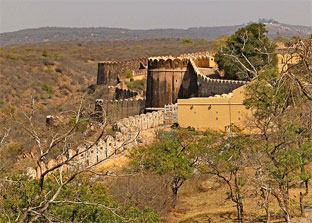 Famous For: History, scenic views, medieval architecture
Visiting Time: 9:30 AM- 4:30 PM (Daily)
Visit Duration: 4-5 hours
Think Rajasthan and you have majestic forts and palaces coming into your mind. Nahargarh Fort is one such majestic and magnificent fort, situated in the Aravalli mountain ranges in Jaipur. Nahargarh was earlier known as Sudarshangarh and was built in 1734 by Maharaj Sawai Jai Singh II, primarily as a strong defence for Jaipur city. Nahargarh means 'abode of tigers' and was named so after the tigers which were believed to have roamed around the hills. It is also believed that the fort was named after Prince Nahar Singh Bhomia. There are many structures within the fort which are a temple, another temple dedicated to Nahar Singh Bhomia, a prince, a 12-storey building named Madhavendra Bhavan named after Sawai Madho Singh who built it and Diwan-I-Aam, an open enclosure which was where the kings met common public to hear out their grievances.
Jaigarh Fort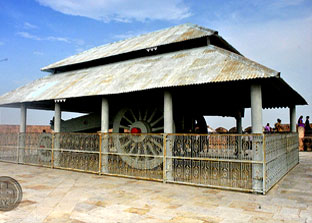 Famous for: History, Photography, Architecture, Rajputs
Visiting Time: 30 A.M to 4.30 P.M
Visit Duration: 2-3 hours
If you wish to see a hardcore fortress, Jaigarh Fort is the place to visit. One of the three hill-top forts in Jaipur, Jaigarh Fort is truly a marvel of engineering and was built in 1726 by Jai Singh II and hence the name. Jaigarh also means Victory Fort. It is located on the Cheel ka Teela Hill amidst the Aravalli range and has various complexes within its premises including the palace complex, a museum, armoury, temples and so on. The highlight of the fort is definitely 'Jaivana', a cannon on wheels manufactured in the fort itself and was once upon a time, the world's largest such cannon. Visit the fort to admire its magnificent architecture, to walk through its history and to just surround you with royal charm and strength.
Hawa Mahal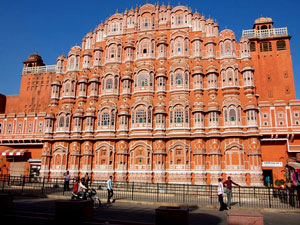 Famous for: History, Architecture, Photography.
Opening Timings: 9:30 am to 4:30 pm.
Duration: 0.5-1 hour.
There are many adjectives to describe Hawa Mahal or the Palace of Wind in Jaipur and to choose one word is really difficult because Hawa Mahal leaves you speechless with its sheer magnificence and beauty. Built in 1799 by the poet-king Maharaja Sawai Pratap Singh, Hawa Mahal is one of the most popular tourist destinations of Rajasthan. A symbol of the splendid Rajput style architecture, Hawa Mahal is five storied and the main feature is the 953 small windows, or jharokhas that are intricately designed. It was primarily built for royal ladies so that they could watch the city and different proceedings from behind these windows. It was called Hawa Mahal as these windows allowed great air circulation which kept the chambers cool all the time.
Jal Mahal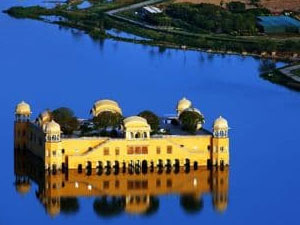 Famous for: Photography, Nature, Bird Sightseeing.
Opening Timings: 9am to 5pm (restricted access).
Duration: 1-2 hours.
Rajasthan's capital city is Jaipur, and with good reason, because there is a beauty and charm about Jaipur that is rather unmatched. With the numerous architectural wonders that the city of Jaipur is home to, Jal Mahal situated in the middle of Lake Man Sagar is no exception. Jal Mahal has been one of the most popular tourist destinations of Jaipur, what with it being the most photographed spot of the city, and romantic boating trips across the lake will give a visitor the spectacular view of Jal Mahal in all its magnificent glory. Plan your next visit to Jaipur with the Jal Mahal in mind and a few tips to get you through below.
Jantar Mantar Observatory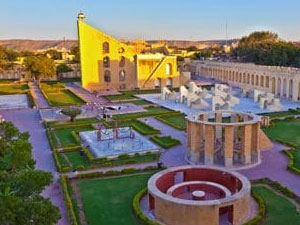 Famous for: Astronomy, Architecture.
Opening Timings: Monday to Friday from 9am to 4.30 pm.
Duration: 0.5-1 hour
If you have any doubts about having to spend your time at an observatory on your tour, reconsider it. Jantar Mantar is not just like any other average observatory; it is ranked amongst the largest observatories of the world. Built during the period of Maharaja Jai Singh II, the astronomical observatory has the largest sundial of the world. Maharaja Jai Singh II had avid interest in various subjects including architecture, astronomy, philosophy and astronomy. His keen interest in astronomy led him to construct the country's largest observatory. The geometric devices available here are used in measuring time, observing constellations and orbits around the biggest star. The astrological instruments attract astronomers and architects from all parts of the world. Whatever your level of interest in space, you will be inspired by Jantar Mantar Observatory.
Albert Hall Museum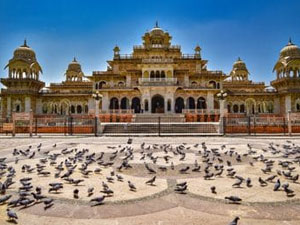 Famous for: History, Architecture, Photography.
Opening Timings: 9.00 am to 5.00 pm & 7.00 to 10.00 pm (Daily). Remains closed on specific maintenance days in the months of October to March (Last Tuesday) and April to September (Every Monday).
Duration: 1-2 hours.
Adorning the gates of Old City and flanked by the famous Ram Niwas gardens, Albert Hall Museum is a stunning example of Indo-Saracenic style architecture. Named after the Prince of Wales, Albert Edward and completed in the year 1887, this museum is one of India's oldest center for art and culture exploration. The museum houses many artifacts, paintings from different parts of India and even an Egyptian mummy that is increasingly becoming popular. In the recent times, Albert Hall has also become a hub for many activities like concerts, rallies and festivals. or even rest in the nearby restaurants like.
• Visit the zoo.
• Relax in one of the many restaurants.
• Take a horse ride around the pathways.
• Take a stroll through Ram Niwas garden.
Galtaji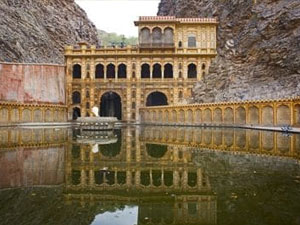 Famous for: Pilgrimage, Photography, Architecture.
Opening Timings: Open on all days (5:00 am – 9:00 pm).
Duration: 45 min.
Situated within the hilly regions of Aravali, Galtaji or Khole Ke Hanuman Ji is an important Hindu pilgrimage center. The temple is surrounded by hilly ranges filled with vegetation and natural springs which fill up seven sacred kunds (water tanks). The temple's unique architecture, beautiful pavilions and unique position make it a vision to behold for any visitor. Apart from a shrine dedicated to Lord Hanuman, it also houses many shrines dedicated to Lord Rama, Brahma, Surya and Lord Vishnu. A legend associated with the temple also states that this was the place where Tulsidas wrote some part of Ramcharitmanas.
.
• Shop for blue pottery enroute.
• Get a glimpse of the stunning Aravali Range.
Birla Temple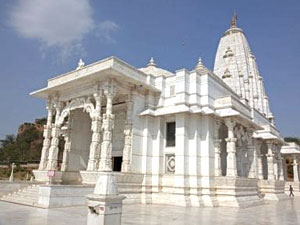 Famous for: Pilgrimage, Architecture, Sightseeing.
Opening Timings: Open on all days (5 am-11.30 am & 4-8 pm).
Duration: 0.5-1 hour.
This LaxmiNarayan temple is one of the many Birla temples adorning India's cityscape. Built completely from white marble, Birla Temple Jaipur is visited by tourists from all over the world for its beautiful architecture, carvings and the stunning idol of LaxmiNarayan. The inner walls depict various events associated with Hinduism and the outer walls also have cravings of philosophers, thinkers and religious leaders namely- Socrates, Zarathustra, Christ, Buddha, and Confucius.
• Visit the Moti Dungri Temple (Indians only).
• Shop in the Birla Temple shopping complex.
• Enjoy the city view in the evening.
Govind Dev Ji Temple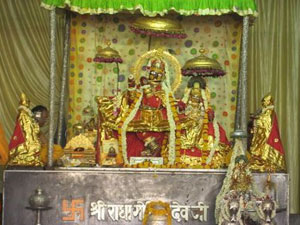 Famous for: Pilgrimage.
Opening Timings: Open on all days from 5 am to 11:30 am & 5:30 pm to 9 pm (seven darshan time-slots).
Duration: 0.5 hour.
Govind Dev ji Temple is an important pilgrimage site, especially for the people who hold high regard and devotion for the Lord Krishna. The deity of the temple was brought from Vrindavan by Raja Sawai Jai Singh to prevent its destruction by the Mughal emperor Aurangzeb. According to a popular Hindu legend, the idol here is closest to the real appearance of Lord Krishna during his incarnation. The temple is visited by throngs of devotees every day, especially during Janmashtami and Holi.
Sisodia Rani Palace and Garden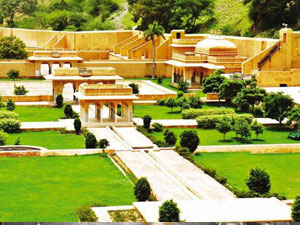 Famous for: History enthusiasts, Photographers and Nature Lovers.
Visiting Time: 8 am. to 6 pm daily except in case of wedding or other private bookings.
Duration of Visit: 45-50mins.
Sisodia Rani Palace and Garden, is one of the most pleasant Mughal garden of Jaipur. This charbagh style Mughal garden was constructed in 1728 by the then Suryavanshi Rajput Maharaja of Udaipur Sawai Jai Singh as a token of love for his wife, Queen Sisodia. Hence, the Sisodia Rani Palace Garden. The place is decorated with multi-layered palace, springs, fountains and flower beds. Just like any other Mughal garden. One of most unique features of this garden are beautiful mural paintings of Radha-Krishna depicted on the walls of the garden. Queen Sisodia is believed to have spent her leisure on this pastures. Apart from the architecture and floral beauties that decorate the place, the garden is frequented by the peacocks of the pink city. One may remember this iconic place from the Sridevi-Anil Kapoor starrer Yash Raj Film of 1991 "Lamhe".