Udaipur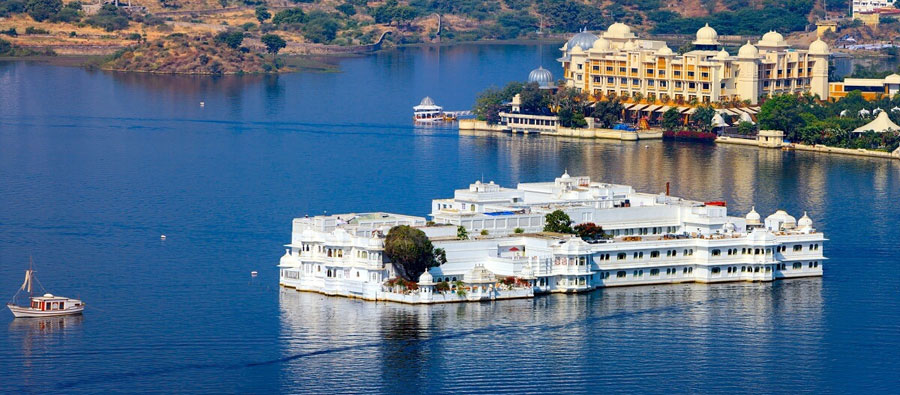 Udaipur is also very popularly known as "white city" or "city of lakes" of Rajasthan. It is situated next to the Lake Pichola and considered to be one of the most romantic destinations of India. This place is blessed with lakes and reservoirs which help in retaining its beauty and majesty.
This is a splendid city which is the perfect signifies and royal Rajput culture. It is simply a marvel in marble and granite stones. There were eleven gates to enter this city out of which only 5 exist presently. Alongside of this place, you can find shining calm waters which provide you a soothing experience. Coming to places of interest in Udaipur, there are many forts and palaces to visit along with exquisite museums and fairs. Mount Abu located close to this city is also a cool retreat if you are on long holidays. Although most of the gigantic palaces and forts are now converted to royal hotels, there is still a lot to explore over here!
Languages: Hindi, English and Mewari
Best Time to Visit: September to April
Temperature: Summer (28.8 o C to 42.3 o C) & Winter (2.5 o C to 28.8 o C)
Climate: Tropical
Nearest Railway: Udaipur
Nearest Airport: Udaipur
TOURIST ATTRACTIONS
City Palace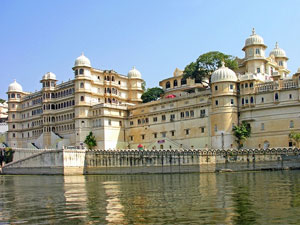 Famous for: History, Architecture, Photography.
Opening Timings: Open all days ( 9:30am to 5:30pm).
It is considered to be the cream of Rajasthan. This is the oldest monument of Rajasthan which catches eyes of maximum tourists making a visit over here. You genuinely require a lot of time to explore minute artifacts of this palace as every single piece of art work signifies the glory of royal kingdom. City Palace was built by Maharana Udai Singh in year 1599. If you are truly interested to experience the blend of Mughal and Rajasthani culture, this is a wonderful option for you. Few places within the palace which you cannot miss out are Moti mahal, Amar Vilas, Badi mahal and Jagdish Mandir.
• Take a tour of City Palace.
• Visit the City Palace Museum (charges separate).
• Enjoy a scenic view of the nearby Lake Pichola.
Lake Pichola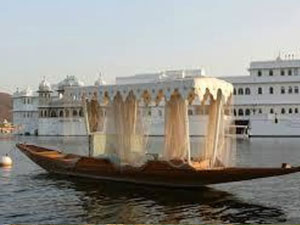 Famous for: Nature, Photography.
Opening Timings: Open all days till sunset.
Another man made wonder in the city dominated by nature, Lake Pichola was created in 1362 AD. Rana Udai Singh II extended the lake in 16th century. The picturesque lake is surrounded by huge hills, magnificent palaces, temples and bathing ghats. The islands in Lake Pichola offer various tourist attractions and hence by cruising in Lake Pichola, you are sure to have a whale of a time. Sunset views are stunning. Boat cruise offers lovely views of the town, particularly in the evenings as you watch the sun go down on your eyes, you will find the city lit up. The palaces look stunning with the lights on and it is a great view from the lake.
• Boat riding during sunset.
• Stroll along the pathways surrounding the lake.
• Visit the attractions like Lake Palace and Lake Garden Palace.
Lake Palace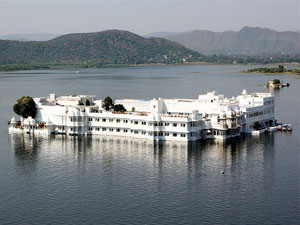 Famous For: History, Weddings, Photography.
Visiting Time: Open all days.
The symbol of Udaipur tourism and a famous wedding destination, Lake Palace or Jag Niwas is an architectural marvel. The palace is situated on the island of Jag Niwas in Lake Pichola and was built in the year 1746 by Maharana Jagat Singh II. It was later converted into a luxury hotel in 1960s and now is a part of Taj luxury resorts. This stunning location has also been featured in many Hollywood and Bollywood movies.
• Have a luxurious meal in the many restaurants.
• Boat Ride in Lake Pichola.
• A tour of this historic heritage site.
• Visit the nearby Jagdish temple nearby.
• Enjoy the sunset at the nearby Lake Fatehsagar.
Lake Garden Palace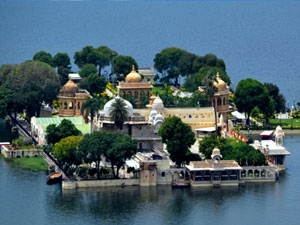 Famous for: History, Architecture, Photography.
Visiting Time: Open all days.
Jagmandir or Lake Garden Palace is said to have served as an inspiration for the Taj Mahal when Shah Jahan took refuge here in his younger days. This palace has a long history and is considered one of the symbols of friendship between the Mughals and Rajputs. A series of impressive structures give this palace a regal feel and would delight any visitor.
• Visit the flower garden.
• Boat Ride in Lake Pichola.
• Savour Rajasthani cuisine at the Darikhana restaurant.
• Visit the museum in the complex.
• Visit the nearby City Palace.
Vintage Car Museum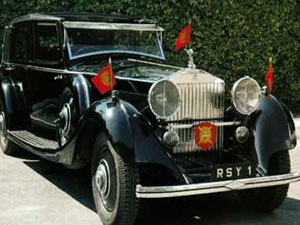 Famous for: History, Automobiles, Photography.
Opening Timings: Open all days (9 am to 9 pm).
A paradise for all motor enthusiasts, The Royal Vintage Car Museum is a must visit for any visitor. It was inaugurated in Feb 2000 and has become a very popular tourist destination since then. The museum houses many famous vintage cars like the 1934 Rolls-Royce Phantom used in the Bond film Octopussy and many rare Rolls Royce models to name a few. The quiet and peaceful environment here is an added bonus.
• Have traditional Rajasthani thali at the Garden Hotel.
• Vintage car tour.
• Visit the nearby Gulab Bagh.
Bagore Ki Haveli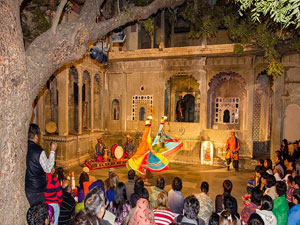 Famous for: History, Architecture, Photography.
Opening Timings: Open all days (10am to 6:30 pm).
Bagore Ki Haveli is situated near Pichola Lake. The 18th century construction was built by Amir Chand Badwa, Chief Minister at the Royal Court of Mewar. The Haveli became the residence of Maharana Shakti Singh of Bagore in the year 1878 and hence the name Bagore Ki Haveli. This was converted into museum retaining the royal touch to the building. The museum presents the culture of Mewar. The antique collections include the stuff used by Rajputs such as jewellery boxes, hand fans, copper vessels and so on. The massive building has over 100 rooms and looks splendid with its unique style of architecture. When you are there, make sure you present yourself for the shows conducted here in the evenings.
• Visit the museum in the haveli.
• Witness the musical and folk dance shows.
• Catch a theatre show at theatre ground.
• Enjoy a puppetry show listen to folk tales.
• View the beautiful sunset.
• Shop for handicrafts, souvenirs and other artworks.
Saheliyon Ki Bari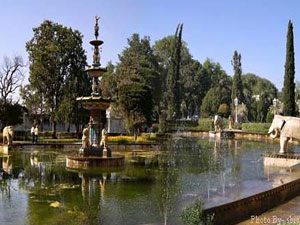 Famous for: History, Architecture, Photography, Gardens.
Opening Timings: Open all days (8am to 8pm).
Built by Sangram Singh II as a gift to queen and her maids, Saheliyon Ki Bari (Garden of Companions) is a beautiful sight to behold. The king designed the garden himself and strived to make it a relaxed place where the queen could relax with her 48 maids. The garden still serves its purpose in many ways and people come to this place to escape the chaos of the city.
• Walk through the gardens.
• Visit the museum.
• Have a meal at the multi cuisine restaurant, 1559 AD.
Jagdish Temple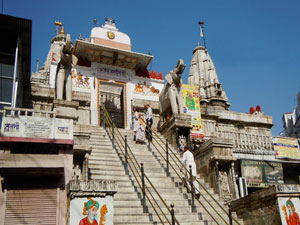 Famous for: Pilgrimage, History, Architecture, Photography.
Opening Timings: Open all days (4:15 am to 1 pm & 5:15 pm to 8pm).
Built in the year 1651, Jagdish Temple is Udaipur's largest temple. An estimated 1.5 million INR were spent on this stunning Indo-Aryan architectural marvel. It is dedicated to Lord Vishnu and also houses other shrines dedicated to Lord Shiva, Ganesh, the Sun God, and Goddess Shakti. This temple should be visited not only to offer your devotion but also to witness beautiful wall carvings, elephant sculptures and for the stunning architecture.
• Shop for handicrafts at the shopping complex.
Jain Temple, Ranakpur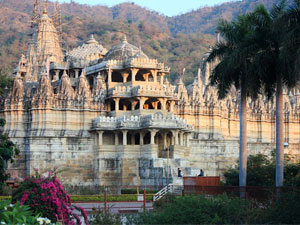 Famous for: Pilgrimage, History, Architecture, Photography.
Opening Timings: Open all days (4:15 am to 1 pm & 5:15 pm to 8pm).
Ranakpur is situated in Rajasthan, India-the land of the kings. And would you expect from such a land? Yes, palaces and temples and the like with world class architecture. And it turns out that's exactly what its got to offer, in abundance. Ranakpur, a rather popular tourist destination close to the Aravallis, has loads of temples and monkeys too, heroine-ic stories about women, and heavy Jain religious influences. Perfect for your date with religion, history and fantastic Indian glory. Being located in Rajasthan, it is highly uncomfortable in summer, and it pays to pick out suitable times of the year and book ahead.
This is perhaps the most notable tourist destination Ranakpur has up its sleeve. Constructed by a merchant, named for a monarch, and dedicated to religion, its as cosmopolitan in its history as the sculptures on its walls of marble are in their styles. Jain Temple is thronged by tourists and devotees from the whole wide world over, and has almost achieved pilgrimage status. A high priority visit when you are in Ranakpur.
Shilpgram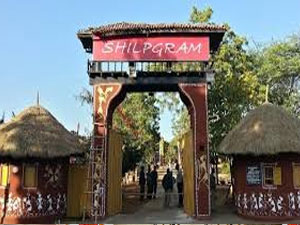 Famous for: Shopping, Photography, Village life.
Opening Timings: Open all days (11 am to 7pm).
Set up in about 70 acres of land and situated in the lap of Aravali ranges, Shilpgram is a rural arts and crafts complex set up to promote the traditional arts and crafts of Rajasthan. It provides employment to many rural craftsmen and is a centre of many cultural festivals which are organised here on a regular basis. Another attraction here is an open air Amphitheatre which provides the centre stage for many art festivals. Visit Shilpgram to experience the simplicity of village life, attend art or dance showcases and shop to your heart's content.
.
• Eat at the Shilpi restaurant.
• Shop at the Rural Arts and Crafts Complex.
• Visit two museums near the shopping complex.
• Enjoy theatre, art or dance showcases at the Amphitheatre.
• Visit the Sajjangarh Wildlife Sanctuary nearby.
Moti Magri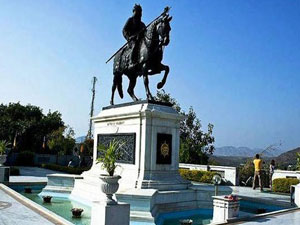 Famous for: Gardens, History, Architecture, Photography.
Opening Timings:Open all days (9am to 6pm).
A fitting tribute to the memory of Maharana Pratap and his beloved horse Chetak, Moti Magri hosts a stunning bronze statue of Maharana on his horse Chetak.It is situated on a hilltop overlooking Fateh Sagar lake and also offers some really beautiful lookout points to not only the nearby lakes but also of Udaipur. Visit Moti Magri to know the stunning legacy of events associated with Maharana Pratap and get some really stunning views.
• Visit the Moti Mahal museum
• Enjoy the Light and Sound show in the evening.
• Visit the Japanese Rock Garden
• Visit the nearby Fateh Sagar Lake and Swaroop Sagar Lake.
Other attractions nearby Udaipur include Sajjan Garh (Monsoon Palace), Kesariyaji Temple, Sukhadia Circle, Neemach Mata Temple and Karni Mata temple.