Kanha National Park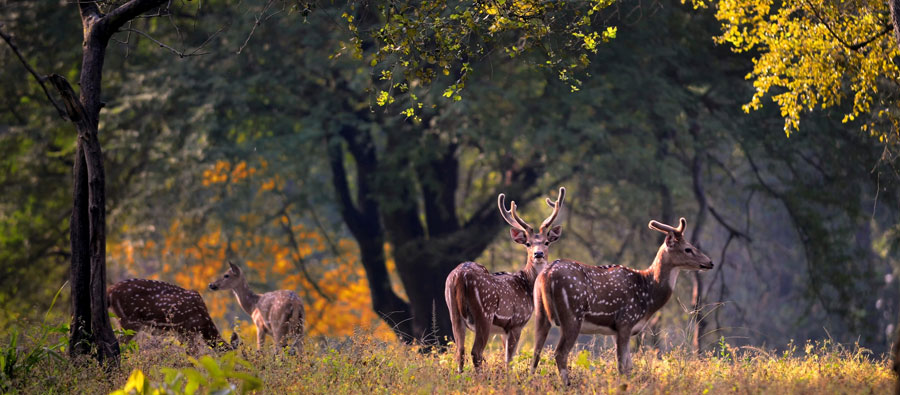 Kanha is a very national park that is located hallon and bajar valley in the balaghat district in the state of Madhya Pradesh. This national park is managed fantastically and is considered to be one the most organized national parks in the Asian region. The park is also one of the best tiger reserve in the country which is spread in a huge area of 940 sq. kilometers. The shape of the area of the park is like a horse shoe and the reason behind this is the valley of the maikal ranges.
The kanha national park was created in the year 1955. The park was created in order to save the barasingha (swamp deer) from near extermination. This specie forms a substantial population of the national park. Kanha park is the alone habitat of this ground deer specie. After that, there are a number of conservation programs that the national park authorities have come up with to preserve the fauna and flora.
Languages: Hindi and English
Best Time to Visit: October to June Temperature: Summer (25°C Min to 43°C Max) & Winter (2°C Min and 22°C Max)
Climate: Quite Hot
Nearest Railway: Jabalpur
Nearest Airport: Jabalpur
TOURIST ATTRACTIONS
Flora at the Kanha National Park
The plant life in the national park forms the main base of the rich and healthy fauna population. The entire life cycle of the all the animals whether carnivores or herbivores mainly depends on the plants. There are more than 600 species of plants at the national park.
The national park is spread over massive plateaus and plains. Sals as well as other mixed trees make an interesting mix in the forest. Bamboos are also one of the things that include a major chunk of the forest slopes. One amongst the rarest species of trees in the kanha national park is the kullu (Indian ghost tree) that shines and is also easily noticeable in the densest portion of the forest as well.
Fauna at the Kanha National Park
There is a great quantity of multiplicity of animals at the national park. The herbivores animals give food to the animals of prey and they themselves feed on various types of fruits, flowers and insects as well that are present at the national park. The whole eco system of the forest works in the perfect coordination. There are a number of types of animals that you will find in the national park such as deers, elephants, tigers etc.
The kanha national park is also a home to most of the endangered specie of animals such as barasingha cheetal, sambhar and many more. Sloth bears and langurs make their presence felt at the national park.