Glorious Gujarat Tour Packages
Duration : 14 Nights/15 Days
Destinations Covering: Ahmedabad - Poshina - Dasada - Chotta Udaipiur - Jambhugodha - Bhavnagar - Palitana - Diu - Sasangir - Gondal - Bhuj - Mumbai
Day 01 : Arrival Ahmedabad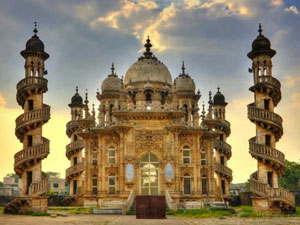 Arrival by Namaste Holiday transfer from Airport to hotel ,check in at hotel.Ahmedabad, named after a Sultan who founded it in 1411 and known for its Indo-Sarcenic architeture is graced with splendid monuments associated with Mahatama Gandhi, the apostle of peace and non violence whose simple ashram on the banks of the river Sabarmati is now a site of national pilgrimage; renowned as a great textile and commercial centre and as the Manchester of India, Ahmedbaad is today the second largest prosperous and thriving city in western India. Arrive ahmedabad check into hotel & Afternoon city tour of Ahmedabad.
Overnight at Ahmedabad.
Day 02 : Ahmedabad to Poshina
After breakfast drive to Poshina enroute visit Modhera & Patan.
Modhera : Your excursion includes visit of the beautiful and partially ruined Sun Temple of Modhera was built by King Bhimdev (1026-27) and bears some resemblance to the later, and far better known, Sun Temple of Konark in the state of Orissa, which it predates by some 200 years. Like that temple, it was designed so that the dawn sun shone on the image of Surya, the sun God, at the time of the equinoxes. The main hall and shrine are reached through a pillared porch and the temple exterior is intricately and delicately carved.
Patan : Patan was an ancient Hindu Capital before it was sacked by Mahmud of Ghazni in 1024. Now a pale shadow of its former self, it still has more than 100 Jain Temples and is famous for its beautifully designed Patola silk saris.
Later visit drive to Poshina. Poshina. The tribal land of Aravalis. Explore the Bhil & Gharasia tribal culture of North Gujarat & Southern Rajasthan.
Over night at Poshina at Darbargadh Castle, Poshina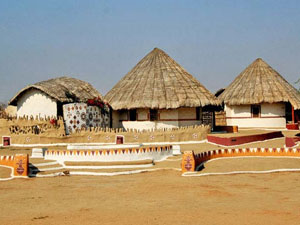 Day 03 : Poshina
Fullday time to visit the Tribal village of Poshina, Its home to a number of artisans the tribal arrow crafters, silver, Potters, blacksmiths and the bazaar is famous for silver tribal jewelry, ORNATE sheathed daggers and terra cotta horses. Around poshina are hamlets Of the bhil and garasia tribal communities, know for their colorful Attires and artistic ornaments. The jain temple, the intricately carved Med review shiva temple and the royal catteries (cenotaphs) of the rulers Of poshina are sure to leave you mesmerized
Overnight the Darbargadh Castle, Poshina
Day 04 : Poshina to Dasada (200 Kms)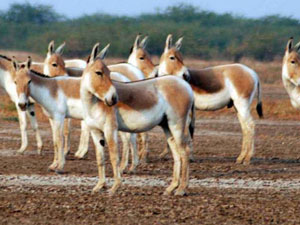 After breakfast drive to Dasada, , the Rann of Kutch to see the rare species of the 'Indian Wild Ass'.Visit the nearby villages to see the local tribes such as Rabari, Koli and Bajania still maintain their rich heritage of lifestyle clothes, jewelry and dances. Their embroidery is exquisite Evening Jeep safari of Visit villages where one can see the Negroid Sidhi tribes-people of Gir and Kutch & Indian Wild Ass .
Overnight at Dasada
Day 05 : Dasada - Chotta Udaipiur or Jambhugodha (240 kms)
Morning (Early morning Jeep to the near by villages as well the Little Rann of Kutch to see the Indian WIld Ass. Later after breakfast drive to Chotta Udaipur/Jambhugodha oneway visit of Baroda and Campanir (world Heritage site). At Baroda You will visit Fateh Singh Museum. This royal art collection includes copies of European works by Raphael, Titan and Murillo and examples of Greco-Roman, Chinese and Japanese art as well as Indian exhibits. Sayaji Bagh, is a popular spot for an evening stroll. Within the park are several attractions. The most important is the Baroda Museum and Art Galary. The Museum has some good Indian statues and carving also visit Champaner an world heritage site, Later drive to Jambhugodha/Chottaudaipur (80 Kms/100 Kms) .
Overnight at Hotel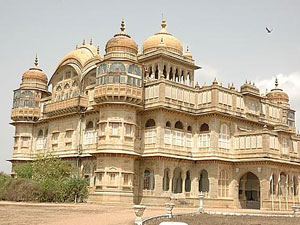 Day 06 : Fullday visit of Chotta Udaipur
Fullday Excursion (With Pack Lunch) to Chotta Udaipur (Recommand to take Jeep for the interior visit - Optional ). Chotta Udepur is it proximity to various hamlets of bhils, rathwas, Bhilalas and other tribes. A tour of the tribal village and hamlets offer An insight into traditional architecture, lifestyle & handicrafts of each Aboriginal community in the tirbal market called " hatt " occur at Different villages. Rathwas who can be seen & sporting colourful attires And chunky jewellery, pithora painting, pottery, terracotta figures, Langoti wearing and bamboo basket weaving and important handicrafts.
Evening back to hotel & over night at Hotel
Day 07 : Chottaudaipur/Jambhugodha to Bhavnagar. (300 kms approx drive)
Morning transfer by road to Bhavnagar. It is important trading post for cotton goods manufactured in Gujarat . Evening You can visit Takhteshwar Temple sits on a small hillock, which is neverthless high enough to provide good views over the city and out into the Gulf of Cambay. The Temple itself is of minor interest. Gandhi Smriti Museum, with a moderate collection of Gandhi memorabilia and religious statues. Evening visit to some of the interesting bazzar area with overhanging wooden balconies.. Evening back to Hotel.

Overnight at Bhavnager (2 Nights)
Day 08 : Bhavnagar – Palitana - Bhavnagar)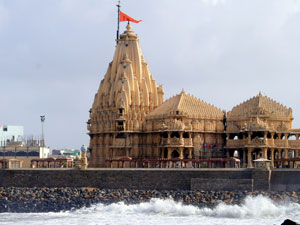 Morning full day excursion to Palitana which is 56km fromBhavnagar by road. It is little more than a gateway to Shatrunjaya, strew with 863 temples. The temples were built over a period of 900 years on a hilltop dedicated entirely to God. Almost all the temples are jain, and this hill demonstrate their belief that merit is derived from constructing temples. The most notable of the temple is dedicated to Shri Adishwara, the first Jain Tirthankar. There is a Muslim shrine of Angar Pir. Women who want children make offerings of miniature cradles at this shrine. Afternoon lunch at a local restuarant (optional), Evening return to Bhavnagar.
Overnight at Hotel
Day 09 : Bhavnagar to Diu (210 Kms)
Afterbreakfast Drive to Diu.Visit the St. Paul's Church is the only active church till date. Nearby is the old St. Thomas's Church that has now been taken over by the authorities and converted into the Diu Museum. The Church of St. Francis of Assisi has been converted to a hospital. The massive fort built in 1541 is an added attraction & Later day Enjoy the day lazing on the Beach
Overnight at hotel
Day 10 : Diu - Gir (150 Kms)
Morning Drive to Sasangir, Asiatic Lion, Gir National Park is a paradise for the connoisseurs of wildlife.
Afternoon Jeep Safari at the Sanctuary. Explore the sanctuary in search of Asiatic Lions. The lions, a smaller more compact version of their African cousins are best viewed at dawn or dusk when they are on the move. Gir has also leopards and numerous chital, nilgai, chinkara, the four horned antelope and wild boar. Marsh crocodiles are often seen at kamleshwar dam & farm developed in the forest.
Overnight at Sasangir. ( 1 Night)
NOTE : Sasan Gir Sanctuary remains closed from 15th June till 15th Oct. every year.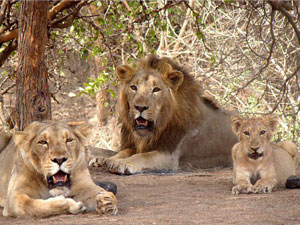 Day 11 : Sasangir - Junagadh – Gondal (65 kms + 65 kms)
Early Morning Drive to Junagadh (65 kms) , Once the capital of the Junagadh state, under the muslim rulers of Babi Nawabs. In Gujarat i " Junagadh " literally means ancient fort. The Junagadh town is located at the foothills of the sacred hill of Girnar and occupies a special place in the history of Gujarat . Visit Ashok Rock Edict, Junagadh Museam , Uparkot etc.
After the visit Drive to Gondal, A picturesque town with plenty of gracious architecture, wide tree lined roads and European lampposts. Evening visit Royal Family Vintage car collection of Gondal , The royal garages, have an extensive collection of Vintage and classic cars including a 1910 new engine, a delage and a Daimler from the 1920s, a 1935 mercedes, 1935 packard 2 door convertible, 1941 & 1947 cadillac, 1955 cadillac limousine, jaguar xk 150, Chevrolet Etc. Most of these cars are restored and some bear the original gondal State number plates. Check in at hotel in Gondal ( 1 Night) for overnight.
Day 12 : Gondal - Bhuj (280 kms)
After an early breakfast drive to Bhuj, the old walled city of Bhuj is the most important town in the area. The place lies at the hert of Kutch. On arrival check in at Hotel and then Proceed DSP office for permit to visit the Banni. (Interior visit of Kutch, which falls under the border and the permit, is necessary for the local tribal village). Evening visit the Bazar with Aiana Mahal Museum.
Overnight at hotel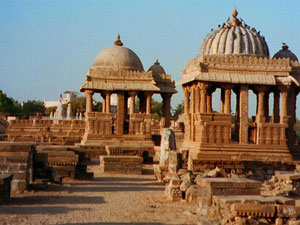 NOTE : This is to bring your kind notice that for now all tourists visiting Bhuj/Kutch must hv to Obtain the permit from the DSP Office (at Bhuj) for the interior Kutch (Bhuj) Visit.
Fee is not applicable (subject to change) & the procedure for obtaining the permit as under
(1) Client has to present personally for the permit at DSP office (Bhuj) (2) Photo copy of Passport. (3) Prior permit is not applicable and personal presence is monitory. (4) DSP office will closed 2nd Saturday, Sunday and local & public holidays. Contact with us before finalizing the dates about the public holidays.
DEMO(Permits)
To visit the villages north of Kutch, including Khavda, Bhirandiara and Dumaro, permission is required from the District Collector First you need to present yourself (in person) at the District Superintendent of Police (DSP) office, where you have to complete a form advising which villages you wish to visit, dates your passport details, etc. You then take this form to the District Collector's office (about five minutes walk; open weekdays from 10.30 am to 5.30 pm; closed for lunch between 1 and 2 pm) where the form will be authorised. The whole procedure should take no more than 11/2 hours, and there is no fee(Subject to change).
Day 13 : Bhuj
Full day excursion to Banni Village (NORTH BHUJ) (Suggest with pack lunch). The last village on the border is a Desert land of infinite dimensions, and in its midst, quaint little villages suspended in Time. Here you will come across master craft people' expositioning their traditional art, turning our master pieces everyday. Their ornaments, clothes, utensils, everything they use - will make you feel as if you have stepped into lifestyle museum leaving you spellbound.. Evening back to the Hotel for overnight at Bhuj.
Day 14 : Bhuj
Fullday Excursion to Banny village ( EAST & SOUTH BHUJ) With recommend pack lunch.
Evening return to hotel at Bhuj for overnight.
Day 15 : Bhuj fly to Mumbai
In time transfer Bhuj Airport to Connect Flight to Mumbai.

Tour Ends here and sweet memories begin.