Desert National Park, Rajasthan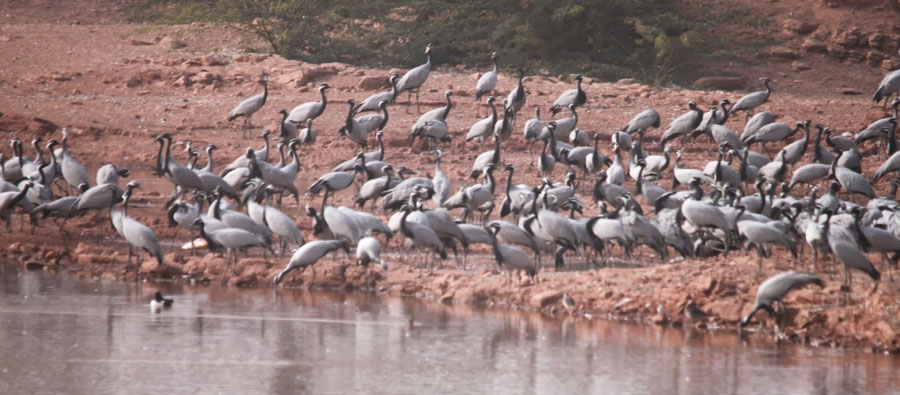 The Desert National Park is spread across a huge area of 3100 sq km and is one of the largest national parks in the country. It lies in Jaisalmer, Rajasthan close to the Thar Desert and seems to defy all common notions that deserts don't support flora and fauna. Well this one is inhabited and frequently visited by some of the rarest and most beautiful birds, reptiles and animals! It supports a unique and fragile ecosystem. The entire area is covered in patches of thorny bushes, cacti, a few plants interspersed with sand dunes lying along the India-Pakistan border. A unique place to discover, this place is haven for bird watchers! It is here that you see life-forms living on the edge with the prevailing harsh conditions of the Thar Desert. So head there, if you want to witness a yet another marvel of nature.
Climatic Conditions
As you might expect, the summer season is extremely with temperature reaching upto a whopping 50˚C! The winters offer the much needed respite with temperature staying around 9˚C to 25˚C. During this time, you might need light woollen clothing especially during the night when temperature can fall even lower.
Best Time To Visit
The best time to visit the Desert National Park is from November to March (unless of course, you're in need of vitamin D)
Birds
These are the star species of Desert National Park. Over 120 species of resident as well as migratory birds can be found at this park. Since the Bharatpur Sanctuary is also situated nearby, many avian species can be spotted here. The rare Great Indian Bustard is found in good numbers here. Other birds commonly seen here include Patridges, Falcons, Eagles, Vultures, Bee-Eaters, Shrikes, Larks, Demoiselle Crane, Macqueen's Bustard, Sandgrouse, Long-Legged and Honey Buzzards etc. The bird variety here attracts a lot of tourists from the world over.
Reptiles
any a members of the 'Slytherin' House' can be seen crawling in the scorching sun through the golden sand. These include Russell's Viper, Saw Scaled Viper, Monitor Lizard, Common Krait, Spiny Tailed Lizard, Gecko, Persian Gecko etc.
Vegetation
Sandy areas dominate the region of the Desert National Park while and dunes cover only 20% of the area. The vegetation of this barren land is of the semi-arid type with thorny plants and bushes. Patches of sewan grass and calotropis are also found here. Salt bottom lakes, craggy rocks, palm trees can also be spotted here. The lakes providing water to the animals here include Gadsisar, Padam Talao, Rajbaug and Milak lakes.
Local Attractions
Boat rides in Gadisar Lake are available. It is a blissful experience amidst the scenic beauty of the desert. However, please do not litter in the lake as it is a water source for the locals. You could even find a lot of migratory birds around!
The Desert National Park is a bird watcher's paradise! Go on a birding tour with your buddies and spot the real beauties of nature. The rare Great Indian Bustard is most often sighted around the Sudashri waterhole.
The sand dunes in Thar Desert are worth a visit.
While you're here, do go around the colorful city of Jaisalmer! It is well known for jewellery, mirror work, textiles, footwear, woven jackets, antique stonework etc. In case you're around during March, be a part of the 9-day long Holi Festival.
How To Reach
By air: Nearest airport is Jaisalmer airport located 5 km from the city. However, this airport is managed by Indian Air Force is functional only from September to March. Jodhpur airport is located 285 km and is another option. It is well connected to other major cities like Delhi, Agra etc. Nearest international airport is located at New Delhi.
By rail: Nearest railway station is Jaisalmer railway station located 2 km from the city.
By road: Since it falls under the military region, the Desert National Park is connected to Jaisalmer by well maintained roads. Regular buses run by the Rajasthan State Road Transport Corporation are available. Jeeps can also be booked. Golden bus terminal and roadways are the two main bus stands.