Pench National Park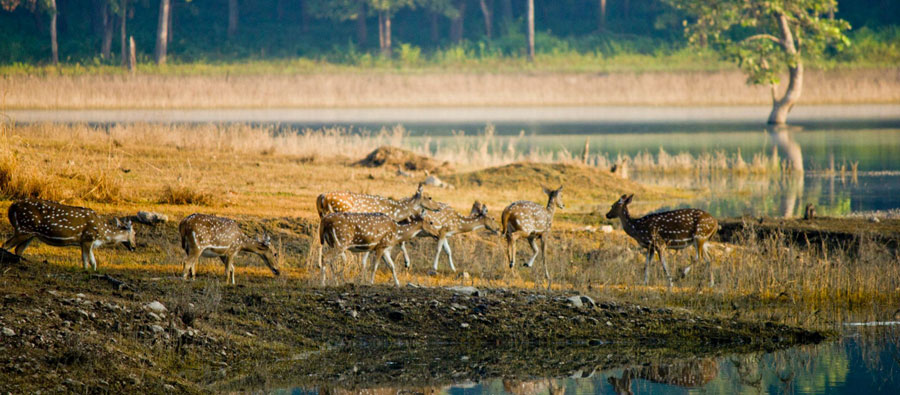 Situated at the boundaries of north- west Maharashtra and Madhya Pradesh state, Pench is a popular national park which treasures a wonderful wildlife in it. In the year 1983, this park was recognized as the wildlife sanctuary by Government of India. This place is widely spread in the regions of Chindwara and Seoni. As it is blessed with the diverse flora and fauna, there are thousands of tourists visiting here each year. It is well connected with the metallic road system so that travelers can also visit the other places of interest nearby. In close proximity to the Pench National park, the river flows along adding a natural beauty to it. Presently, it stands on the 19th position for popular Tiger Reserve of India. Basic area of this park is spread in 299 sq km while buffer area for Tigers is around 758 sq km. Weather over here is mostly on its extreme including chill winters and scorching summers. Although winters are favorable for visiting here but you would fail to experience the private wildlife of this park during that tenure. Summer is a better option as that is the time when this wildlife escapes from their usual habitat to search for water.
Languages: Hindi, Marathi and English
Best Time to Visit: November to June
Temperature: Summer : (26o C to 42o C) & Winter (3o C to 16o C)
Climate: Tropical dry
Nearest Railway: Nagpur
Nearest Airport: Nagpur
TOURIST ATTRACTIONS
Flora
It is primarily a scattered jungle in all its areas. In this jungle, you can find humid and desiccated deciduous forests along with small shrubs and trees. This place also has a rich conservation of herbs and grasses that are utilized for therapeutic usage. Trees like aolna, ghont, kihamali, palas, bija, mokha and moya are found here.
Fauna
Wildlife fauna is found in abundance over here which is around 285 species. Along with an elongated concentration of muntjac you can also find nilgai, wild pig and chital over here. Finding a Tiger over here completely depends on your fortune only if you are lucky enough that day. Other wildlife that can be viewed by you over here includes wild dog, Jackals, chinkara, langoors, bears and monkeys.
Birds
Pench National Park also exhibits the abundance in bird species which extend to 125. Few varieties of birds that you can find here include waterfowls, bulbuls, kingfisher, wagtails, munias, barbets and racket tailed drongo. Reason for blooming wildlife over here is the recreational water supply which serves these animals' life and water. During winters you can also find many migratory birds like Brahmini Ducks and Pochards.