Periyar National Park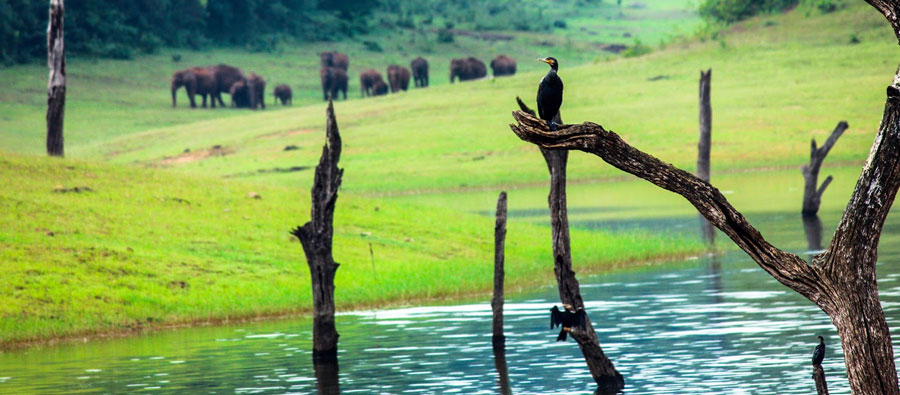 Periyar is a very famous wildlife sanctuary situated in the Western Ghats of Kerala state. This place is a completely isolated area located in centre of cardamom hills. Key attractions of this sanctuary are the tiger reserves and other unique animals inhabiting over here. Since it is spread across the district and has several small plantations, it provides a mesmerizing view to all the people. After visiting here, you can find yourself detached from busy city life and only way to reach here is roadways. Nearest town from this place are Madurai and Kumarakom which are also situated quiet far away.
Languages: Malayalam and English
Best Time to Visit: October to April
Temperature: Summer: (18o C to 29o C) & Winter (15.5o C to 21o C)
Climate: Pleasant and cool
Nearest Railway: Thekkady
Nearest Airport: Madurai
TOURIST ATTRACTIONS
Periyar wildlife sanctuary
Periyar wildlife sanctuary comprises of many other interesting places such as Murikkady, Kumily and Vandanmedu. Sanctuary over here has gained popularity due to the wide variety of wildlife species available over here. It is surrounded on all sides with natural beauty, artificial lakes and evergreen forests. The artificial lake located in the center of the sanctuary and offers a great opportunity for travelers to get a direct view of animals through safety boats.
At Periyar, you can find large number of animals within its boundaries. Wild elephants and tigers are amongst the most popular animals found here. Other species of wildlife which you can find here include deer.