Muunar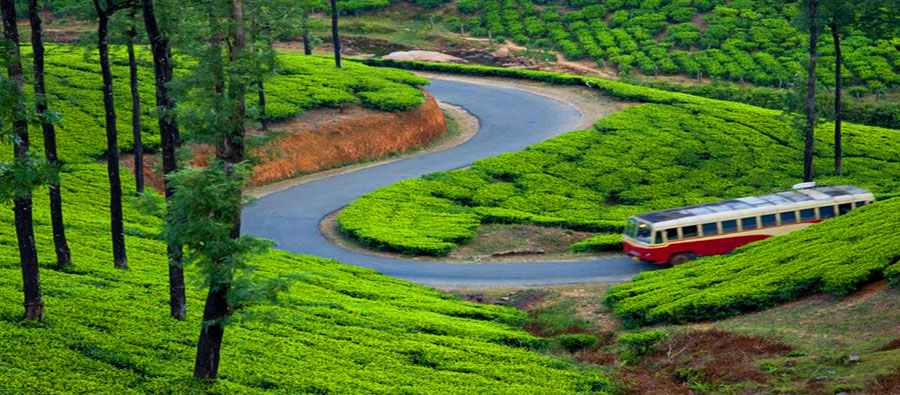 Munnar is a very famous hill station located in the Idukki district of Kerala. This place is completely situated on the Ghats and provides you an eye- pleasing scenic experience. It has derived it name from the word Munnu which refers to three and aaru which is refers to river. Over a period of time, it has emerged as a popular tourist destination for many foreign travelers.
Munnar is situated at the place where you can find a confluence of three mountain streams like Kundala, Nallathanni and Muthirapuzha. At this place, you can get vivid experiences such as colonial bungalows, tea plantations and amazing waterfalls. Especially for biking and trekking, this place serves to be a perfect spot.
Languages: Malayalam, English
Best Time to Visit: November to February
Temperature: Summer (25 o C to 45o C) & Winter (8.2 o C to 23 o C)
Climate: Humid sub-tropical
Nearest Railway: Munnar
Nearest Airport: Munnar
TOURIST ATTRACTIONS
Eravikulam National Park
This is a major attraction of Munnar spread in the area of 97 sq. km. Situated at the distance of 15 km from Munnar, this park is famous for inhabitant like Tahr and Nilgiri. Besides, you can also find various other types of species of birds, rare butterflies and animals. Tea plantations over here caressed with blankets of mist are also a sight worth watching. It is popular for the blue flowering on its hill slopes which blooms once in 12 years.
Anamudi Peak
Inside the Eravikulam National Park, Anamudi peak is located. It is considered to be the highest peak of South India standing at the height of 2700 m. in order to trek through this peak, you require taking permission of the forest authorities.
Mattupetty
Mattupetty is another interesting place situated at the distance of around 13 km from the Munnar town. This place is popular for its storage masonry dam and the beautiful lake around it. You can view the majestic landscapes over here as well as enjoy the boat rides. Apart from water beauty, tea plantations over here are also simply astonishing. Shola forests and rolling grasslands over here are also a good place to trek and even explore different kinds of birds.
Pallivasal
Situated at the distance of 3 km from Chithirapuram in Munnar, Pallivasal is the place for first Hydro-electric project of Kerala. It is a good picnic spot for many visitors.
Other popular tourist attractions in Munnar are Chinnakanal, Anayirangal, Top Station and Tea Museum. Nearest railway station to make a visit over here is Theni in Tamil Nadu which is around 60 kms away. Another station is Aluva at the distance of 110 km away. Airports near to Munnar are Nedumbassery International Airport and Madurai Airport.