Incredible Rajasthan Tour in 17 days
Duration: 16 Nights/17 Days
Destinations covering : Delhi - Samode - Nagaur – Jodhpur - Jaisalmer – Osian - Ranakpur - Udaipur - Jaipur - Agra -Fatehpr sikri- Delhi
Day 01:Delhi arrival
Arrive at the Delhi IGI airport. There you will see an envoy of Namaste holiday(generally holding a patching board of your name) who will pick you from there. Check-in at the hotel and have some time for relaxation.Our Rajasthan tour will start from tommorow so as of now,
Overnight stay at the hotel.
Day 02:-Delhi-Samode(235kms/4hrs)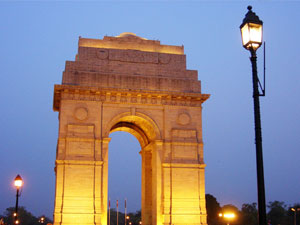 After having a sweet breakfast at the hotel,drive to Samode. After reaching this place, visit Samode Palace/Samodehaveli/SamodeBagh(garden) which is built near the samode village on the outskirts of Shekhawati region and is considered as one of the most romantic and charming/love monument/site in Rajasthan.You will also be greeted with a wonderful camel ride in this perfect desert gateway.
After visiting the Samode Palace, have lunch at your desired location.Later you will be escorted to Samode Village to see the distinct atmosphere of rural life and old-aged culture.
To see how a true rural Indian family follow what customs,Samode village shows the true reflection of it.
Overnight stay at the hotel.
Day 03:-Samode-Nagaur(230kms/4hrs)
Post breakfast,check-out from the hotel and move towards our next destination i.e, Nagaur , or Ahichatrapur. This ancient town of Rajasthan is prominent for its grand fort & the famous fair(Nagaur cattle fair).
Check in at the hotel.Then visit the Nagaur Fort(Ahhichatragarh fort).After visiting the fort you can visit the town's other tourist attractions like temples, local bazaar.
Overnight stay at the hotel.
Day 04:-Nagaur-Jodhpur(150kms/3hrs)
After a healthy breakfast at the hotel,leave for Jodhpur, at the vicinity of Desert was once the capital of strong & powerful kingdom Marwar, also called as Blue City of India. Upon arrival check in at the hotel. In the evening you can move on to have some shopping in the market or visit clock tower – locally known as spice market and nearby visit the colourful Sardar Market. Overnight stay at the hotel.
Day 05:-Jodhpur sightseeing
Have some lavishing breakfast at the hotel.After that we'll move onto visit Mehrangarh Fort(one of the largest and glorious fort in Rajasthan which stands upon a 150m high hill) and Jaswant Thada(built by Maharaja Sardar singh in the memory of his father Maharaja Jaswant singh, acts as a cremation site for the royal rajput family.Made from Marbles,It's also known as the "Taj Mahal of marwar").After Lunch you can visit Mandore Garden and Bishnoi village(which is famous for textiles, handicraft), after a wonderful day of sightseeing we will return back to the hotel.
Overnight stay at the hotel.
NOTE:-Tourist attractions have been given in the tour Itenerary,just for the sake of your knowledge but which one will be visited first "is not entirely followed by the itinerary" i.e., it depens upon the availability of time.You don't have to bother about this part, leave it to us(Namaste holiday)(Don't worry we'll try our best to cover the tour in the best possible way as we can).

Book Your Tour
Day 06:-Jodhpur-Jaisalmer(280kms/5hrs)
Post breakfast, check out from the hotel to continue our tour by driving towards Jaisalmer-lies in the heart of Thar "The great Indian desert".
On arrival check-in at the hotel and have some time for relaxation.
Prepare yourself for the beautiful sightseeing of deserts/monuments and many more so have a sweet sleep at the hotel.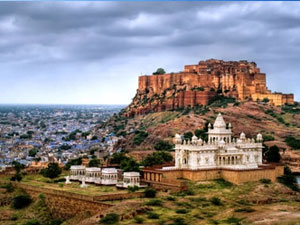 Day 07:-Jaisalmer sightseeing
After breakfast visit the Jaisalmer Fort- which is made by unique Golden Lime stone, that's why it's known as "The Golden Fort" or "Sonar Kila". After that we will visit some havelies like Patwon-ki-haveli, Nathmal-ki-haveli, Salimsingh-ki-Haveli(Some of the most popular spots in Jaisalmer due to the architecture used in them, each with a unique varied design/perk).
After that also visit Gadishar Lake(A man-made lake/water-reservoir, surrounded by some mandirs/temple and ghats/bank and one can also do boating in it so it's one of the famous attraction in Jaisalmer).And then we'll extend our joy by experiencing camel ride on sam sand dunes(desert), there you will enjoy the beautiful view of sun-set in the thar desert.
Overnight stay at Jaisalmer tent where you would enjoy our Rajasthani Culture like Rajasthan's folk dance, Rajasthan's special dish(desert beans) as dinner.
Day 08:-Jaisalmer-Osian(240kms/4hrs)
Post breakfast our next destination would be Osian.This town of Rajasthan was used to be a great trading center of silk route & is now boasted about numerous temples of Hindus & Jains.
After arrival, check-in at the hotel(/camp) and have some rest there.We will visit Osian mata temple..Then after having some lunch, we'll head on to enjoy Camel Safari on the sand dunes(you can even have a Jeep ride there on the dunes) while riding you can explore nearby views like sun-set, local villagers or huts.
In the evening come back to the hotel/camp. Overnight stay at tent/hotel where you would enjoy Rajasthan Culture like folk dance with dinner.
Day 09:-Osian-Ranakpur(230kms/4hrs)
Post-breakfast leave for Ranakpur. On arrival check-in at the hotel and do some rest there. Later then visit the famous Ranakpur jain temple-where Tirthankara Rishabhanatha is worshiped, it is one of the largest temple of Jain religion and being made by Marbles, it gives a spectaculare view and thus substantiate the example of true Jain architecture.
Rest time's utilisation depends on you.Overnight stay at the hotel.
Day 10:-Ranakpur-Udaipur(90kms/2hrs)
Have breakfast at the hotel and leave for Udaipur, a romantic city of Rajasthan , also familiar as the Lake city of Rajasthan.Upon arrival check in at the hotel.
Later in the evening enjoy boat cruise/ride on the Lake Pichola- at which you could see the scenary of City palace,Taj Lake palace hotel,Jagmandir,Leelapalace,Udaivilas. .Later then come back to your hotel.
Overnight stay at the hotel. .

Day 11:-Udaipur sightseeing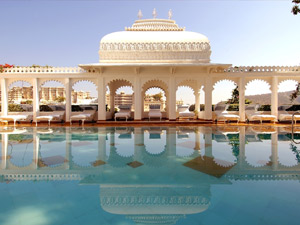 After having a toothsome breakfast at the hotel,we start the sightseeing of this beautiful Lake city by visiting Fateh Sagar lake; Maharana Pratap Memorial(situated at the top of Motimagri/Pearl hill); Sehelion Ki Baadi –also known as "Garden of Maidens" is the most beautiful garden in Udaipur/Rajasthan because it has fountains,marble elephants, a lotus pool and many more to visit; Sukhadia Circle (will be visited while we Drive pass from it), Bhartiya Lok kala Mandal(Museum)–it displays information regarding folk,art and craft culture/history of many places like Rajasthan/Madhya Pradesh/Gujrat.
After that visit City Palace – Rajasthan's largest palace complex, Jagdish Temple–dedicated to God Vishnu & then at last Gulab Bagh. In the evening after having a wonderful day's sightseeing visit light and sound show in Baghore ki haveli.
Overnight stay at the hotel.
Day 12:-Udaipur-Jojawar(150kms/3hrs)
Our next stop would be Jojawar-a village located in pali district of Rajasthan, you can say a perfect addition to this trip as we don't want to miss any part of Rajasthani culture.So post breakfast head on to Jojawar.
After arrival, check-in at the hotel and do some rest in the hotel.
Later then you can have a local sightseeing of the villages(you would come to see how rural people live, talk, and do their day to day to activities).
Overnight stay at the hotel.
For more information about
Rajasthan
or it's places then please check out our blog's post-
Top 10 best places to visit in Rajasthan
..
Day 13:-Jojawar-Jaipur(300kms/5hrs)
After a healthy breakfast at the hotel, continue our tour by travelling towards the pink city.
On arrival check-in at the hotel and have some rest. In the evening visit light and sound show at the Amer fort.
Overnight stay at the hotel.
Day 14:-Jaipur sightseeing
Post breakfast start full day sightseeing of Jaipur(The pink city), by first visiting the Amer fort-here you would enjoy the elephant ride while you climb up the fort to visit it, and then drive ahead to visit Hawah Mahal(palace of winds),City Palace – this royal complex comprises of gardens,courtyards and buildings ; Jantar Mantar– an observatory site based on the concepts of astronomy; and then have a road side-view of Jal-Mahal – a Palace built amidst a lake, you can have a photo session there. Rest of the time's utilisation depends on you or you can do some shopping.
In the evening after having a wonderful day's sightseeing we can go to Akshardham temple(built in the several parts of the country, this temple is dedicated to multiple hindu deities like Lord swaminarayan, sita-rama, Radhe-krishna, etc..Other attractive points about the temple are "fine architecture, good natural surrounding with gardens, one shall attain purity and peace" after visiting it).
Overnight stay at the hotel.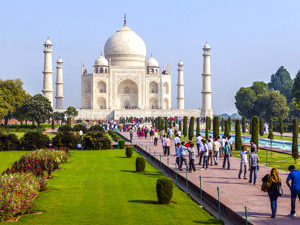 Day 15:-Jaipur-Fatehpur sikri-Agra(240kms/5hrs)
Post breakfast, check-out from the hotel and drive towards Agra.On the way visit Fatehpur Sikri fort-this place is amazing and it looks like a Mughal era resort as it is built of both mughal and Persian architecture.
Later continue to Agra, the home of Taj-Mahal.
Upon arrival check in at the hotel & overnight stay at the hotel.
Day 16:-Agra sightseeing-Delhi((220kms/4 hrs)
Early morning visit the TAJ MAHAL, world renowed visiting site and also one of the seven wonders of the world, a living example of true love that mughal emperor Shah jahan showed for his queen by building it.
Later then visit Agra Fort-built by the orderes of Emperor Akbar in 1566, this fort is made by using red sandstone and it lies on the banks of yamuna.
Also visit Itmad-ud-Daulah's tomb(built by marble jali works, it's work is considered more delicately done than any other Agra's structure, including the Taj-Mahal).
Then we will move on to reach our final destination of our tour-Delhi.On arrival check-in at the hotel and
Overnight stay at the hotel.
Day 17:-Delhi sightseeing-departure
After having breakfast at the hotel, start the sightseeing of Delhi by visiting Raj Ghat and Shanti Vana – memorials dedicated to Mahatma Gandhi and Jawaharlal Nehru; Jama Masjid and then drive past Red Fort and ChandniChowk.
Later then visit Qutub Minar , Humayun's Tomb, India Gate, Lakshmi-narayan Temple(Akshardham temple).
Drive past(&visit) President's House, Parliament House, Government Secretariat Buildings & Connaught Place.You can also go to a shopping centre(where you can do shopping if you want to).
Our representative of (Namaste holiday) will drop you at the airport for your onward destination.
"Tour Ends here and sweet memories begin."
Inclusions
Accomodation:-Double/Triple sharing bed OR a Single bed depending upon the number of persons
Accomodation:-CP(Room with breakfast)/MAP(Room with breakfast and dinner)/AP(Room with all the meals i.e, breakfast, dinner and lunch) plan
Transportation:-Air-conditioned Car(SUV/sedan/economy,check out our car-rental page for more info.)
English-speaking guide service(guides knowing other languages are also available) ; Toll-tax and parking charges
Exclusions
Any other thing which is not listed in the inclusions like:-
Monument entrance charges ; Camera charges/ jeep safari / elephant ride/ camel ride charges
Samode palace, shekhawati tour, Nagore tour, Rajasthan tour with Nagaur, Rajasthan tour with Nagaur Jojawar Samode, Osian mata mandir, Rajasthan budget tour, Rajasthan desert tour, Ranakpur jain temple, Fatehpur sikri fort, Rajasthan with Delhi tour