Start off the sighseeing from your airport/ railway-station arrival, you will see an envoy of ours holding a patching-board of your name.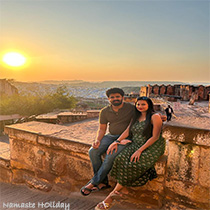 Visit the historic hilltop fort Mehrangarh Fort- standing on a 122m high hill, gives a splendid view of the blue city, like Amer Fort of Jaipur, it also has numerous constituent attractions such as Sheesh Mahal, Phool Mahal, Jhanki Mahal, and many more. The fort also constitues two temples- Chamunda Devi Temple dedicated to Goddess Durga and Nagnechi Mandir dedicated to their (the royal family) Kuldevi . You'll also find a Museum named "Mehrangarh Museum" containing the preserved collection of the previous royal families' records.
After that, visit the nearby attraction- Jaswant Thada- also referred to as "Taj Mahal of Marwar" due to the use of white marble in its making. It is a cremation site for the royal rajput family of Jodhpur (Marwar).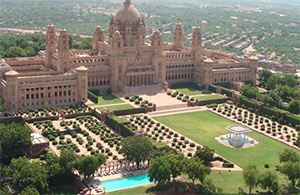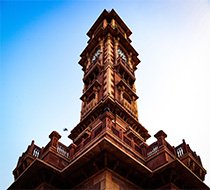 Pause the sightseeing for some time and we can have a lunch break now. Post lunch, we'll resume the Blue City sightseeing.
Visit Umaid Bhawan Palace- like many other palaces in Rajasthan, one part of it is where royal family resides, and the remaining part is accessible to the tourists in the form of hotels+museum. Enjoy exploring the museum of one of the largest royal residence of the world.
These were the 03 historic monuments of Jodhpur and these are mostly visited in the Jodhpur sightseeing. So if time permits, we can visit some side-attractions such as Clock Tower, Mandore Garden, Kalyana Lake, and Toor Ji Ka Jhalra Bavdi.
If you want to visit the old city area of Jodhpur then you can visit Clock Tower- also known as "Ghanta Ghar" an d"The Spice Market", and nearby to it the popular local market- Sadar Market. You'll find a lot of shops selling different variety of products such as handicrafts, spices, jewellery, and many more. Usually visited when one wants to spend their leisure time seeing the busy alleys,the shops, and the people (both local and tourists).
This marks the end of our blue city sightseeing after covering the prominent attractions and capturing a lot of memories to remember.