Sightseeing Starts
Our journey will start from Jaipur as it's the nearest airport to Samode with a distance of around 50 kms and 1-1.5 hr journey.
We'll take appropriate stops in between the journey for refreshments or for any other reasons.
On arrival in Samode, head towards the heritegious Samode Palace- a palace amidst the beautiful aravali ranges, unlike any other palace, it was owned by a nobleman (rawal) rather than a ruler but seeing it and all the other palaces, you won't mind this fact as this palace-cum-hotel is worth a visit (or, stay).
Get the ticket for a guided tour to the palace and you'll see the interior parts of this palace such as Diwan-i-Khas (the hall of private audience), Sheesh Mahal, and Darbar Hall. You can also have a meal there in there restaurant as a lunch.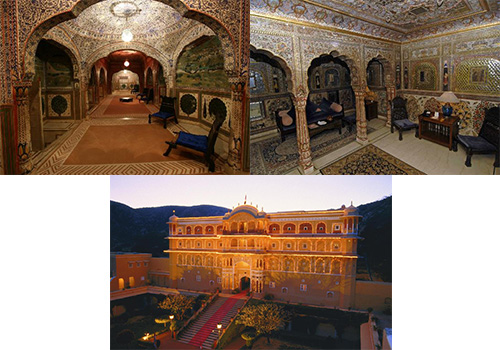 After visiting the palace museum and meal, you can also visit their garden (bagh) which is around 4kms away from the palace. Samode is not only visited for it's palace but also for experiening the rural life of Samode Village. Opt for a camel safari and ride through the aravali ranges to the village and enjoy seeing the local craftsmenship and their culture.
This is it, time to go, and take a return ride to Jaipur for your onward journey.
Sightseeing Ends