Information regarding 02-Days, 03-Days Tour Package is given at the end of this 04-Days Itinerary
Arrival Location: Jodhpur Airport (Domestic) or Railway Station or Bus Station
Preferred Arrival Timing: 08/09:00 AM
Day 01: Jodhpur arrival and sightseeing
Arrive at your preferred arrival location in Jodhpur, you'll be greeted by our envoy who'll be holding a patching board of your name (for ease in arrival n recognition process). Post greetings, get in the pre-booked car, and head towards your pre-booked hotel for check-in. After some time relaxing in the hotel, commence the exploration of this mesmerizing Blue City.
Immerse yourself in its rich history and architectural marvels as you visit the iconic Mehrangarh Fort, perched majestically atop a hill. Marvel at the intricate craftsmanship and panoramic views from this magnificent stronghold. Nearby to Mehrangarh is Jaswant Thada- a stunning marble cenotaph built in memory of Maharaja Jaswant Singh II. Admire its intricate carvings, serene gardens, and tranquil ambiance. Next, we'll visit the final part of the "Trio of Jodhpur's famous attractions"- Umaid Bhawan Palace Museum-which is part residence, part hotel, and part museum. This opulent former residence has been transformed into a captivating heritage hotel, while still serving as a residence for the royal family. Additionally, visitors can delve into the palace museum, where a fascinating collection of artifacts awaits, offering a glimpse into the rich history and heritage of the region.
Continue your journey to the enchanting Mandore Garden, a historical site with beautifully landscaped gardens, ancient temples, and cenotaphs of Marwar rulers. Explore the serene surroundings and delve into the historical significance of this captivating place. Later in the evening, Embark on a journey to the city's core and find yourself in the lively Clock Tower area for shopping and enjoy exploring the delightful array of traditional handicrafts, textiles, spices, and more.
Overnight stay at the hotel.
Day 02: Jodhpur- Jaisalmer (300kms/ 05hrs)
After enjoying a delicious breakfast at the hotel, it's time to check-out and make your way to the enchanting city of Jaisalmer, famously known as the Golden City. As we traverse the picturesque landscapes, an optional stop can be made at the famous Osian Temples, where you can explore the intricately designed Sachiya Mata Temple and majestic Jain Mahaveera Temple. Feel free to take additional breaks along the way for rejuvenation or a delightful lunch at your preferred spot. Upon reaching Jaisalmer, we will smoothly check-in to our pre-booked hotel, allowing you to relax and unwind after a half-day of travel and sightseeing. If time permits, we can visit Gadhisar Lake, an exquisite man-made water reservoir, Delight in a boat ride surrounded by the tranquil backdrop of ghats, temples, and cenotaphs.
Overnigh stay at the hotel.
Finally, enjoy a comfortable overnight stay at the hotel, preparing for more exciting adventures ahead.
/* Bada Bagh is visited either early in the morning or late afternoon as the soft golden light during sunrise or sunset adds a beautiful glow to the landscape, creating stunning photo opportunities. It is located just outside the city, and is another attraction worth exploring. It is a garden complex with royal chhatris (cenotaphs) dedicated to the royal families of Jaisalmer. */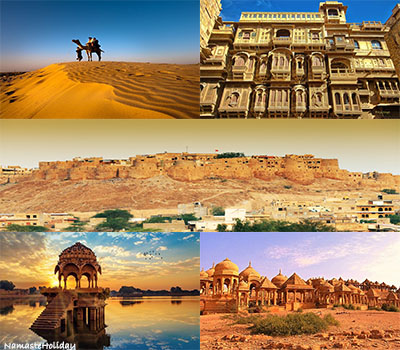 Day 03: Jaisalmer sightseeing
After savoring a nutritious breakfast at the hotel, it's time to check-out and prepare for an exciting desert camp experience later in the evening. But first, let's embark on a captivating sightseeing of Golden City tour to explore the best of Jaisalmer.
Begin your sightseeing journey by visiting the magnificent Jaisalmer Fort, a UNESCO World Heritage Site, also known as Sonar Qila or the Golden Fort. As the majestic fort stands tall amidst the golden sands, admire the stunning views of the city from the ramparts, boasting intricate architecture and a rich historical legacy. Within the fort, discover sub-attractions that contribute to it's prominence such as Jain Temples, Rajmahal (Royal Palace), Laxminath Temple, and Palace Museum.
After fort, other prominent tourist attractions that come to mind when visiting Jaisalmer are Patwon-Ki-Haveli, Nathmal-Ki-Haveli, Salim-Singh-Ki-Haveli, Gadhisar Lake, Bada Bagh, Kuldhara Vilalge, and Desert Sam Sand Dunes Camel Safari. These havelis offer varying architecture, intricate carvings and exquisite craftsmanship.
While moving towards the desert area, visit Kuldhara Village, an abandoned village with a fascinating history, offers a glimpse into the folklore and legends of the region.Explore the ruins and learn about the mysterious tales that surround the village.
It's said that if you're going to Jaisalmer then you have to experience the true essence of the desert, i.e, a visit to the Sam Sand Dunes should be a must do thing in your tour plan. Enjoy an enchanting Camel Safari with the beautiful sunset in the background, thus creating an array of beautiful memories. For a more exhilarating experience, you can also opt for a thrilling Jeep Safari.
Come back to the camp, have snacks, and later in the night enjoy the rajasthani dinner along with the enjoyment of rajasthani cultural program. Overnight stay at the camp.
Day 04: Jaisalmer- Jodhpur Departure
This day concludes the end of this memorable "Desert Tour Of Rajasthan" and we hope that it has been a journey filled with enchantment, cultural immersion, and unforgettable experiences.We thank you for choosing us as your travel companion and hope to welcome you back and your lover ones for more adventures in the future. Safe travels and cherished memories await you on your onward journey.
Drive towards Jodhpur for departure. On arrival, your tour-companion and our envoy will drop you at the airport (or, any preferred departure location) for your onward journey.
Departure Location:- Jodhpur/Jaisalmer Airport (Domestic) or Railway Station or Bus Station.

Preferred Departure Timing: Considering the 05hrs journey, and depending upon your flight we'll depart from the camp accordingly for Jodhpur departure.