Sightseeing Starts
Arrive at the Jaisalmer airport/ railway-station, your assigned chauffeur will pick you up from there and then after greetings, we'll start the sightseeing of this beautiful Golden City.
Start off by Golden Fort- also known as "Sonar Qila", the prime attraction of Jaisalmer, unlike many other forts, it houses numerous havelis, shops, and homes/ ancient havelis where people still used to live. The whole fort (both inside and outside) is worth visiting in every bit like a group of 07 Jain Temples and Lakshminarayan and Surya Temples.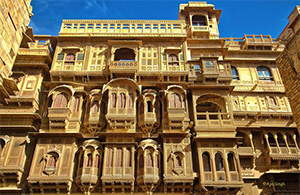 There are havelis inside the fort and outside the fort but when it comes to havelis of Jaisalmer, there are 03 major havelis which comes under the Jaisalmer's tourist attractions list. They are Patwon-Ki-Haveli, Nathmal-Ki-Haveli, and Salim-Singh-Ki-Haveli with each showcasing their unique works in terms of beautiful carvings, paintings, stoneworks, interiors, and exteriors. Some of them are multi-storey like five-storey.
Take a break and have lunch in the city, and after that resume the sightseeing.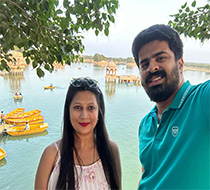 Other tourist points to visit in the Jaisalmer city before going to Sam are Gadhisar Lake, Bada bagh, and Kuldhara Village.
Gadhisar Lake-A man-made water-resorviour, used to fulfil the water needs until late 90s, surrounded by temples/ ghtas, and you can also choose to do a boat ride. Visit the Royal Cenatophs- also known as "Bada Bagh", you'll find a series of cenatophs (Chattris) of royal family there.
Move ahead to visit the Kuldhara Village- explore this ancient, abondened village, having some references in the movies, and a lot of stories related to its existence.
Move towards the Sam Part of Jaisalmer whereafter arrival, you'll enjoy a camel ride on sam sand dunes and later then enjoy the setting sun view from the sand dunes.
As per your departure timings, your assigned chauffeur will drop you at the airport/ railway-station.
Sightseeing Ends