Our Chauffeur will pick you up from your preferred arrival location in Jaipur (airport/ railway or any other location in jaipur) then, we'll start the full day sightseeing of this beautiful Pink City.
Before that, if you want to have a meal first then, the assigned chauffeur will guide you to good places to eat.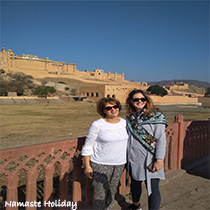 Usually, the sightseeing of Jaipur starts from Hawah Mahal, also known as "The Wind Palace" or "the palace of breeze", enjoy this world famous 05- storey palace from inside/ outside, and then move ahead to visit the Amer Fort.
Amer Fort (or, Amber fort)- one of the prime attractions of Jaipur. Visiting this hilltop fort starts by climbing up to the fort and sometimes, tourists do it by an elephant ride (if you want to). Inside the fort too there are numerous visting points such as Sheesh Mahal and Shila Mata Mandir.
After visiting the fort, head towards Jal Mahal for a photography session, enjoy the beautiful background and take some beautiful photographs to remember as a pink city tour collection.
For lunch, you can ask your assigned chauffeur to drive you to your choosen place or he can suggest you some good places to eat based on his experience.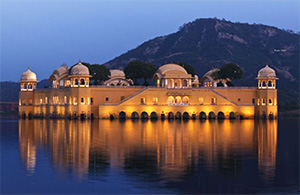 Browse our Gallery Page for more references/ photos of tours and attractions.
After having gained some energy, we'll move towards the city center area of sightseeing i.e City Palace and Jantar Mantar. First visit City Palace, the residence of the royal family of Jaipur while most of its constituent parts are accessible by the tourists. This palace (complex) houses a museum (City Palace Museum), various buildings/sub-palaces, gardens, and courtyards.
Nearby to City Palace is another prime attraction of Jaipur- Jantar Mantar- an astronomical observatory, UNESCO world heritage site, housing 19 astronomical instruments which were built by then ruler of Jaipur Maharaja Sawai Jai Singh II.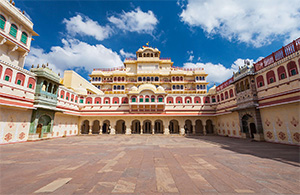 It would be around evening (or, late afternoon) after covering the above 04 royal attractions of Jaipur.
Move ahead to visit the enchanting Albert Hall Museum- a govt. central museum, also the state museum, has a varied collection of stones, sculptures/ small statues, paitings, jewelry, etc.
It's prime attraction is an egyptian mummy.
Last but not the least, usually visited in morning/ evening, Birla Mandir- a white marble made temple of Goddess Lakshmi and Lord Vishnu, visited both by locals and tourists. This temple is also known as "Lakshmi Narayan Mandir" and is one among many "Birla Mandirs" made by "B.M Birla Ji".
This sums up the general tour itinerary of Jaipur as "full day sightseeing" after covering its prominent attractions.