Sightseeing Starts
Preferred Arrival timings:
from 08:00 AM (early morning would be much better for en-route attractions)
Preferred Departure timings:
After 05:30 PM (if you've to visit any en-route attraction then timing- after 07:00 PM)
Nearest Airports:
Jaipur (150kms), Kishangarh (40kms)
The Pushkar Brahma Temple closes during 1:00 PM to 03:00 PM and jaipur to pushkar is around 02 hrs drive so we should arrive by 08:00 AM in the Jaipur airport in order to visit the temple during the opening hours and also come back to the Jaipur for departure.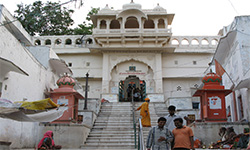 Arrive at the Jaipur International Airport, you'll see an envoy from Namaste Holiday holding a patching-board of your name (for easy recognition and arrival process), after greetings we'll straight away drive towards Pushkar.
You may take some stops in between for rejuvenation.
On arrival in Pushkar, head towards the Pushkar Brahma Temple- take blessings and worship Lord Brahma (the creator of this universe). It's the only temple of Lord Brahma in the whole world as per the hindu scriptures and is situated on the banks of holy Pushkar Sarovar.
After that, visit Pushkar Sarovar Lake- take some dips in this holy lake and cleanse your sins (if any), you'll see numerous devotees taking baths/ dips in this holy lake.
Have lunch and you can elapse some time in the city like roam around the market area. Get ready to head back towards Jaipur for your departure. If time permits then we can also visit Ajmer Sharif Dargah.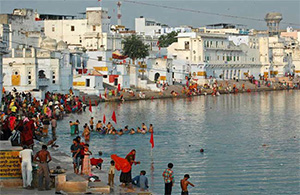 On arrival in Jaipur, transfer to the airport for your onward journey. This marks the end of our day tour to Ajmer Pushkar.
Sightseeing Ends