Day 01: Jaipur arrival- Ranthambore (150kms/ 03hrs)
Upon your arrival at the Sawai Man Singh International airport in Jaipur (08:00 AM), you'll see an envoy of ours (at the terminal) holding a patching board of your name. After the greetings, we usually do the check-in process in the pre-booked hotel but in this case our hotel is in Ranthambore so straight away drive towards Ranthambore.
You can have meal first in Jaipur then drive and can also take some stops in between the journey for relaxation. On arrival, transfer to the pre-booked hotel for check-in and relax for some time. The afternoon safari usually starts from 14:30 till 17:30 so post check-in, if time permits then we can do the safari otherwise we'll do it in the morning schedule tomorrow. You can also cover the historic Ranthambore Fort and the Lords Ganesha's temple inside of it- Trinetra Ganesh Temple.
Get back to the resort, have dinner, enjoy your time around this beautiful peaceful nature, and overnight stay.
Day 02: Ranthambore- Agra (300kms/ 05hrs drive)
Enjoy an early morning Jungle Safari in Ranthambore, then get back to the hotel/ resort for breakfast. Post breakfast, check-out from the hotel, and start our journey towards Agra.
En-route visti the world's largest StepWell- Abhaneri StepWell and Fatehpur Sikri. During your journey, you can have lunch, and namaste holiday chauffeur will stop at good places to eat.
On arrival, check-in at the pre-booked hotel. Well, by this time, it would be evening after a day of traveling (05 hrs journey) and sightseeing (en-routes) so we'll cover the prominent attractions of Agra tomorrow then go to Jaipur for departure.
Overnight stay at the hotel.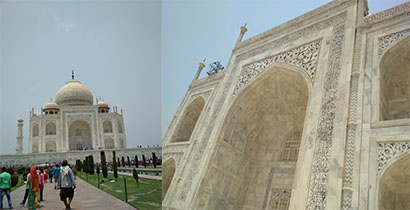 Day 03: Agra sightseeing - Jaipur (240kms/ 04-05 hrs drive)
Visit Taj Mahal in the early morning schedule then get back to the hotel for breakfast and check-out from the hotel. Considering the 04-05 hrs journey between Agra and Jaipur and the departure flight from Jaipur, we'll cover the attractions of Agra like Agra fort or Itmad-Ud-Daulah.
Post lunch, drive back to the pink city. On our way back to Jaipur, but from Agra, we can visit en-route attractions like Post arrival, check-in at the pre-booked hotel and rest for some time.
With a day left for Jaipur sightseeing to cover, Overnight stay at the hotel.
For the 03-Days version of this tour, just take departure from Jaipur on Day 03 and depending upon the flight timings, you can skip the en-route attractions from Agra to Jaipur
Day 04: Jaipur sightseeing and departure
Have a delicious breakfast at the hotel and check-out from it with your luggage as this is our last day at this hotel and on this tour too. Before departure, we'll cover the prominent attractions of Jaipur first. Amer Fort: Commence your journey with a visit to the majestic Amer Fort. An exceptional experience awaits as you ascend to the fort on the back of an elephant, adding a royal touch to your exploration. Jal Mahal: Capture the enchanting view of Jal Mahal, a palace surrounded by a serene lake, creating a perfect backdrop for memorable photographs. Hawa Mahal: Admire the intricate architecture of Hawa Mahal, also known as the Palace of Winds, with its distinctive honeycomb design and numerous windows. City Palace: Immerse yourself in the opulent ambiance of City Palace, a vast royal complex featuring lush gardens, elegant courtyards, and historic buildings. Jantar Mantar: Explore the precision and scientific brilliance of Jantar Mantar, an observatory that showcases advanced concepts of astronomy. Albert Hall Museum: Delve into Jaipur's rich cultural heritage at Albert Hall Museum, where you can marvel at artistic and historical treasures. Birla Mandir: Conclude your day with a visit to Birla Mandir, a serene temple renowned for its intricate architecture and spiritual tranquility.
In the evening, your assigned chauffeur will drop you at your preferred location (airport) for your onward journey.
{Late Evening Departure after 18:00}