Abhaneri StepWell Day Tour
Preferred Arrival Timings: Morning time like 08/09:00 AM
Preferred Departure Timings: After 05:00 PM
Jaipur to Abhaneri is around 100kms with a 1.5-02 hrs drive so we should choose the arrival timings accordingly. Plus this historic attraction is open till 06:30 PM so we do not have any time constraints regarding arrival.
Sightseeing Starts
We'll start our same day trip to Abhaneri from Jaipur with an arrival at the Jaipur International Airport. You'll see a representative of ours with a patching board of your name.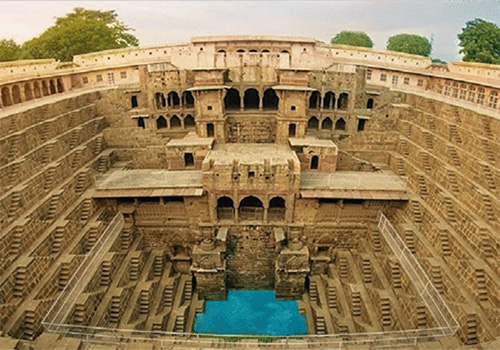 Abhaneri is a village in the state of Rajasthan nearby to the Pink City Jaipur which is famous for a Baori/ Bavdi (Stepwell)- Abhaneri Chand Baori (Bavdi).
In the ancient times, stepwells are created to preserve water and were called as Baoris/ Bavdis. There are many Bavdis in Rajasthan like Toor Ji Ka Jhalra in Jodhpur or Rani Ji ki Bavdi in Bundi but the most famous one and worth at-least a visit is of Ahaneri's.
Well, there are reasons for it such as it's the world's largest stepwell 20m deep and having 1000s of zig-zag steps across 13 levels. You can also visit a nearby attraction- Harshat Mata Temple and later on, have lunch, and get ready for a return drive to Jaipur. On arrival, your assigned chauffeur will drop you at the airport for your onward journey.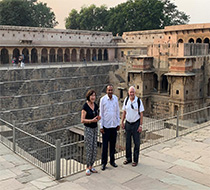 Sightseeing Ends
FAQs
Abhaneri Chand Baori, also known as Abhaneri Stepwell, is a historic stepwell located in the village of Abhaneri, Rajasthan, near Jaipur. It is famous for being one of the largest and deepest stepwells in the world. The stepwell features 3,500 narrow steps arranged in a precise geometric pattern across 13 levels, leading down to a depth of 20 meters. It was built to conserve water and served as a vital source of water for the local community in ancient times. Today, it is a popular tourist attraction due to its architectural brilliance and historical significance.
Abhaneri is located approximately 100 kilometers away from Jaipur, and the journey takes around 1.5 to 2 hours by road. The drive from Jaipur to Abhaneri offers scenic views of the Rajasthan countryside, making it a pleasant and convenient day trip from the Pink City.
Besides the impressive Chand Baori, visitors can also explore the nearby Harshat Mata Temple. The Harshat Mata Temple is an ancient Hindu temple dedicated to the goddess Harshat Mata, known for her association with happiness and joy. The temple features intricate carvings and architectural details, making it a significant religious site for locals and an interesting addition to the day trip.
Yes, Abhaneri Chand Baori remains open until 6:30 PM, allowing visitors to explore it even during the evening. The stepwell takes on a unique charm during the golden hour, making it an ideal time for photography enthusiasts to capture stunning shots of the intricate steps and architecture.
Yes, there is a nominal entry fee to visit Abhaneri Chand Baori. The ticket price is generally affordable, and the revenue generated is used for the maintenance and preservation of this historical monument.