Book Car Rental Jaipur Rajasthan
NamasteHoliday provides Car Rental Services for Jaipur sightseeing tours, outstation trips, Jaipur, Agra, Delhi Packages and complete all over Rajasthan tours by Sedan, Innova, BMW and Tempo Traveller bus and Car. Namaste Holiday provides Car Rental and Taxi Hire services to our Valuable clients for their convenience. Golden Triangle package includes an excursion of the cities mainly alluring Pinkcity Jaipur, the national capital Delhi and The city of Love Agra. We provide budget car and Luxury car rental service to our Visitors according to their needs in an affordable budget. Namaste Holiday provides best deals on cars for rental in Fair and festive season. We have Toyota Inova, Toyota Etios cars, Maruti Suzuki Swift, Maruti Suzuki Ciaz, Mercedes-Benz, Audi A3 for rental in jaipur . If you want to get the best services, Car Hire Jaipur with car rental. We believe in providing best services with best car rental discounts in jaipur to our clients. We provide safe and secure car Rental services in Jaipur. NamasteHoliday also provides same day tour to Delhi, Jaipur and Agra with experienced tour guides. If you are planning a tour to Rajasthan Don't miss the chance to grab the best Car Rental.


Jaipur Car Rental Services for Local Travel
This service useful for the traveler who wants to travel within city or for local sightseeing within the city limits but cannot use for point to point taxi or radio taxi or call taxi. Local usage car rental service divided into two types of services: Full Day Local, Half Day Local
1. Full Day: This service is nothing but a small package for Jaipur local city usages that it is also called as 8Hrs / 80kms package. Local Full Day service is available anytime for local trips like shopping, sightseeing, attending schools and meetings, or for visiting hospitals. For more detail information and pricing please check our website.
2. Half Day: This service also another one small package for Jaipur local city usages that it is also called as 4Hrs / 40kms package. Local Half Day service is available anytime for half day car hire like Airport Transfer, Railway Transfer, attending schools and meetings, or for visiting hospitals in Jaipur. For more detail information and pricing please check our Jaipur local half day cab page.
Jaipur Transfer Car Rental Services
Transfer taxi services is useful for the travellers who wants only pickups and drops facility means transfer from one Jaipur place to another like airport pickups and drops, railway station pickups and drops, bus stand pickups and drops and hotels pickups and drops. We would see to it that our drivers/chauffeurs are at the spot in time. For more detail information and pricing please check our jaipur transfer taxi page.
Jaipur Car Rental Services for your Outstation Travel
If any traveller wants to plan for weekend getaways or for a family leisure trip outside the city limits Clear Car Rentals can arrange for a compact tour package. We take up group packages from Jaipur to connecting places nearby. We would send cars accommodating the size of the group. Outstation car rental service divided into three type's services like: Round trip, One Way Trip and Multicity.
Jaipur are popular tourist destinations in northern India. Travelers' throughout the entire world visit these fascinating travel destinations quite in good number. Jaipur, the state capital of Rajasthan, is a historical city famously known as the Pink City of India. In fact, traveling in these tourist destinations of northern India is a unique lifetime experience.
Hiring a car in Jaipur provides travelers an easy and convenient way to explore all the Most popular tourist destinations in and around Jaipur the Pink City of India. Jaipur, the capital city of Rajasthan, features lots of tourist attractions in and around. Travelers can visit to the all attractions by a car in most comfortable and hassle free way. A good Jaipur car rental provides a wonderful chance to explore all the major attractions of the city in smarter way. Jantar Mantar, City Palace, Hawa Mahal, Jal Mahal, Amber Fort, Jaigarh Fort, Nahargarh Fort, Birla Temple, etc are major attractions you will love to visit in Jaipur by a luxury car drive. Travelers can rent a Taxi in Jaipur and can make excursion to nearby attractions and tourist places like Khatu Shyam, Samode, Ajmer, Pushkar, Bharatpur, Agra, Jodhpur, Jaisalmer, Ranthambhore, Sariska, etc.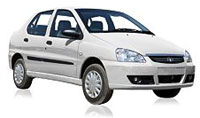 Medium sized brother of the Indica, has a boot, has more leg room as compared to its smaller sibling the Indica. Again it is diesel driven hence cheaper than the rest in its segment. Comfortable for 3, but 4 passengers are officially allowed. It has a medium sized boot.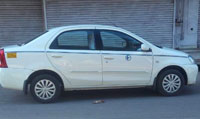 Toyota is well known as one of the top manufacturer of luxury and economical cars in the world. The company has launched several luxury and economical car models to the automobile market. Many individuals prefer Toyota over other brands for its elegance and features. Incase you are planning to buy a new car in the near future, going for Toyota cars can be a great idea.
Exterior design: The elegant exterior body offers great look to the Etios model. The eye-catching frames and chrome coated body parts add more elegance to the design. The shining Toyota Etios logo gives a luxury feeling and makes it unique from all other competitive brands. The top quality door parts and exterior mirrors make the car compact and durable. The metal alloys used in the wheel protect it from all types of damages while running on the road. The head lights and turn indicators add more complement to the elegant car model.
Interior design: The interior of the car has been designed in smart fashion with contemporary themes. There is enough space available inside the car so that you can enjoy a smooth drive with your entire family. There is extra space available for luggage and daily used items. The speed meter has been placed on the instrumental panel so that you can easily monitor your speed while driving on the highway. The comfy seat backs and luxurious foam seats provide extra comfort so that you can go for a long journey.
Safety and security: There are enough safety systems available inside the car so that you can enjoy a safe and secure drive on the road. The power steering allows you to have sharp turn on the road with minimal effort. The electronic brake distribution system helps you to control the brakes properly while driving the car.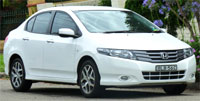 The hot selling Honda Car in India. Two versions available:
1. The old shape which is slightly low in seating, good visibility, good air conditioning, a car which executives prefer to travel in.
2. The new shape has a bigger boot, better leg room, higher seats, more compact as compared to its older sibling. Definetely has more to give the the previous model.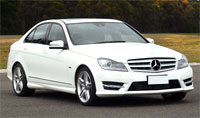 Mercedes has made the new E-class so good that it questions the need to opt for the larger S-class. Mercedes has managed to improve on the old model's ride quality while giving it new-found agility. It feels like a terrestrial jet that will take you to your destination in a remarkably short time and in ultimate comfort . Unmatched engineering and snob value is what you pay for. Can u ask for more in a 5 seater royale car.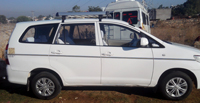 Toyota Innova is supposed to be the most demanded car for the Indian terrains. It is a perfect MUV which can accommodate up to 4 passengers plus a driver. You can also carry up to 2 huge bags and 2 small bags along with you. There is enough space for luggage in the car. The inner space provided in this MUV is very comfortable for long journeys. So if you are planning for a long journey you can think of hiring this car. Along with comfortable inner space, there is also great leg space. It is just not the comfort of this car, but also the safety measures which makes it a very good option for travelling.
The technical features of Toyota Innova are also something which makes it a much demanded vehicles for travelling in India. With an engine capacity of almost 2500 CC you will be able to get a great drive in this car. Plus a 2KD-FTV 16 – DOHC engine which is additionally fitted makes the drive far better than others.
It also has a great ground clearance with about 170 mm along with a turning radius of about 5.4 m. this is simply outstanding for bumpy Indian roads. The interiors of Toyota Innova are simply luxurious. With soft cushion covered seats one can get great comfort when the journeys are long and continuous. There will be a first aid kid provided along with mineral water for a perfect journey. You will also have batteries and torch so that you do not face any in convenience in your journey.
For those who have a group of all-around 9 to be able to 10 you may consider making your reservation for a new " cadence " passenger for your quest. On this it will be possible to relish your own quest along with all other people.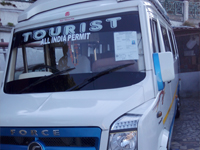 It is just a ideal solution for just a collection have a picnic as well as better to run on American indian roads. It provides that you quite cozy quest as well as makes it sleek even around the hops as well as humps on the way. The braking system is usually good which is perfectly created much like the actual American indian roads.
The sitting preparations right here only as well large thereby it makes your own quest a really comfortable 1. In addition to a good capacity to handle people, this specific extravagance vehicle boasts a fantastic bags houses space. You can allow for up to 8 to be able to 10 big carriers along with 5 to be able to 6 smaller carriers. Consequently don't stress about the actual bags. The " cadence " passenger is available with a Global positioning system which are your own quest quite convenient to reach your own location despite the fact that are not aware of the actual roads. Together with GPS NAVIGATION you will also be provided with distant based crisis system that make your own quest quite easy as well as safe and sound. You can get a new safe and sound quest through visiting in this extravagance vehicle.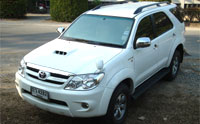 India make your dream of enjoyable and mind refreshing expeditions a reality by introducing our 06 Seater Luxurious Toyota Fortuner.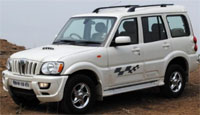 The Mahindra scorpio is one of the many SUVs that India has fallen in love with. Its big, its chunky and its a diesel. The Scorpio has shape characteristic of SUVs, its big, its chunky and has loads of road presence. This design has been an eye-catcher among SUVs and has bagged many an award for its styling. Easily 8 + 1 driver can be seated but 7 would be comfortable.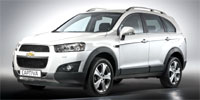 General Motors made its entry into the SUV car segment with the introduction of the new Chevrolet Captiva. The Captiva is sturdy and elegant with a bold look. It has a classy exterior and a spacious interior with a commanding driving position.
The Captiva competes with the Honda CR-V, Ford Endeavour, Hyundai Tucson, Nissan X-Trail and Mitsubishi Pajero.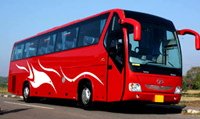 One of the most secured vehicles to travel long distance is Volvo bus. This is a giant bus with great measures for the security of the traveler. This bus can house up to 40 passengers and therefore is the best option for huge group of people. Along with hiring a Volvo bus you will have a driver and a helper. There is also a huge place for the luggage and it can accommodate lots of heavy and huge bags in it. It is very spacious from within and has a great leg space. It also considered as the most comfortable option for long distance travelling because of its seats.
The engine has a great power and has about 6 cylinders installed that boost the performance of the bus. This bus can carry 7 liters of diesel at a time. Plus the disc brakes of EBS 5 make the performance better. This is a very comfortable option for elder people also. They do not have to bear the jerks as it offers a very smooth ride. The interior of this bus is very lively and cozy. You will find well covered seats which are well maintained. Clean ground and also sloping windows through which you can enjoy the outside view. The large view glass panel offers you a great view of the outside world from the Volvo Bus. There is also an emergency exit which is opened only in situations where it is not possible to move out from the Volvo.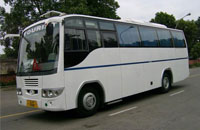 The mini coaches are basically luxury vans for people who generally travel with a group of people. These are the best suited vehicles for those who are travelling with a set of 20 people. By hiring this vehicle you will get to stay along with the entire group during your journey. You will get both AC and non AC mini coaches to hire. The seating arrangement of the vehicle is the most comfortable of all because of the push back feature. This will give you a comfortable seating for longer journeys and overnight journeys. You will also get a good music system that can entertain you with the best music during your journey. So in case you feel bored during your journey, this music system can help you.
When you have so many people travelling in one vehicle the amount of luggage taken along has to be very huge. But there is no need t worry about this fact as the mini coaches also provide you with an ample amount of luggage housing zone. It is not just the external features of the mini coaches which make it a perfect selection for group travelling but the internal features also which takes it at par. These coaches have almost 4 diesel cylinder which will not give you any problem in the middle of your journey. The engine capacity is almost 2500 CC with a power of 80 @ 3900rpm. You will also have seat belts on each seat for better safety during the journey.